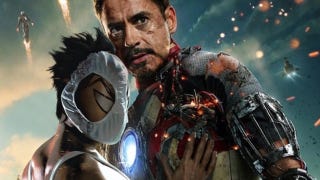 In Taiwan, Iron Man 3 isn't the only super hero movie debuting this spring. There's another one.
HK: Hentai Kamen is opening soon in Taiwan. This is why, according to Wow! News, internet users in Taiwan have whipped up this unforgettable Iron Man 3 and HK collaboration by combining movie posters as a gesture of...support. I think.
And of course, people are making the inevitable "iron panty" jokes.
One thing this Photoshop doesn't change is how heroic the main character looks. Tony Stark doesn't look too bad himself.
HK: Hentai Kamen means "masked pervert" (変態仮面) and is originally a Japanese gag manga. RBB Today reports that the flick is proving to be a big hit in Japan, even among female moviegoers, and is playing to packed cinemas.
《瘋狂假面》激鬥《鋼鐵人3》 鈴木亮平在台感動催票 [Wow! News]
Kotaku East is your slice of Asian internet culture, bringing you the latest talking points from Japan, Korea, China and beyond. Tune in every morning from 4am to 8am.