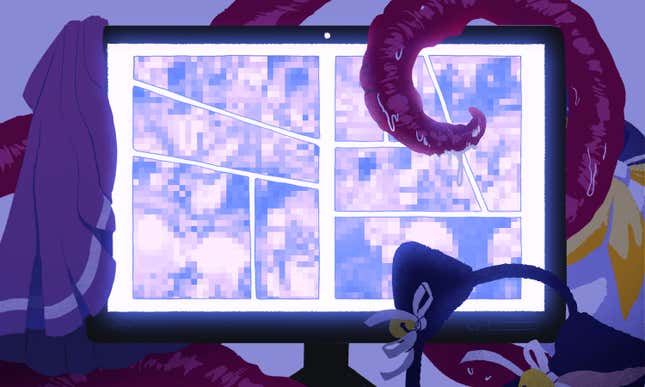 The biggest English-language hentai manga publisher, Fakku, just celebrated its 10-year anniversary last December. That's ten years of "monster girl," "oppai," "nakadashi," "yaoi" and "futanari," tags under Fakku's clean taxonomy of hentai genres. The company's founder Jacob Grady has a lot to celebrate.
The Week In Games: System Shock, Street Fighter 6, And More
In its torrid lifespan, Fakku evolved from an underground hentai piracy operation to a legitimate business. One of Fakku's first "scanlations," or illicitly scanned and translated manga, was the best-selling hentai Shoujo Material, which now, Grady publishes with its creator's blessing. A year and a half ago, when Fakku went from free to subscription-only, its fans across the world considered it a betrayal to the free-wheeling, publisher-irreverent hentai community at large.
Grady, who had dreams of making video games, stumbled into the Japanese anime porn industry as a passionate but naive anime fan. Now, he's dining with Japan's most famous manga artists, who, previous to Fakku, wrote off American hentai consumers as pirates. On the occasion of its 10th birthday, I spoke to Grady about his former scanlating operation, meeting his idols and whether there's any hentai he's uncomfortable publishing.
Cecilia D'Anastasio: Thanks so much for talking to me about "Fa-koo." Um, is that how you pronounce it?
Jacob Grady: It's "Faa-ku." I don't know if that's how you pronounce it, but I made it up, so that's how I say it.
D'Anastasio: Got it. I have a good friend who's really excited I'm interviewing you and I guess that's something I know about him now. So, can you tell me how you first launched Fakku?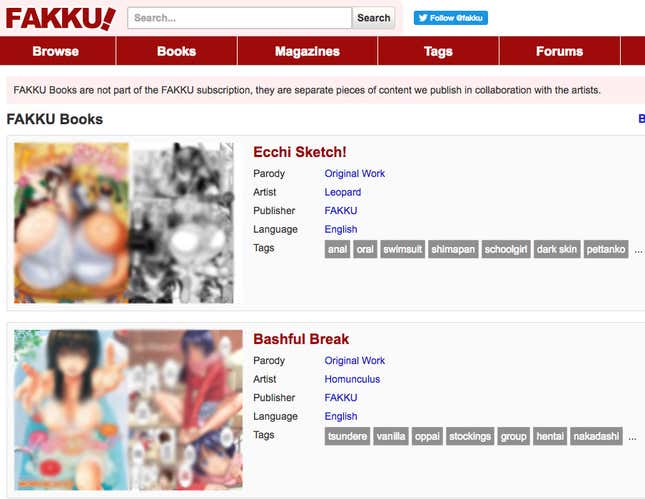 Grady: I created Fakku when I was 19 years old in college. I was just a fan of anime. I grew up watching Toonami and Adult Swim. In college, I'd made a few random fan websites for video games, maybe a Final Fantasy Tactics website. One summer in college, I was working in a supermarket, in the produce department. I was super bored. My job was stacking vegetables all day. They were super phallic and I don't know if that corrupted my mind a little...
I remember I'd been looking for this comic… I was a huge Evangelion fan at the time, and I was looking for this comic based on Asuka. In looking for this comic, I saw a lot of the awful websites on the internet. Back then, it was a mess of hentai websites. They were riddled with ads and spyware. I dreamed up what the website I'd want to use as a consumer would look like. I was conscious of making it not feel like a gross website. I wanted to make a website anyone could feel comfortable using.
D'Anastasio: Huh, interesting. Websites back then did tend to look a little sketchy.
Grady: I dreamt up Fakku over the course of that summer. I coded it all while I was in school. On December 1, 2006, I put it online. I never thought it'd be anything other than a pet project at the time. It sort of exploded. It was a little over 10 years ago now, and a lot of my life has been defined by Fakku.
D'Anastasio: That's a great story. I'm gonna push back a little though—you had to have stumbled upon hentai before that. It must have been something you'd at least heard of. Was Asuka really the search that led to this? Where did you first encounter hentai?
Grady: Watching my favorite anime, reading my favorite comics—especially in Japanese media—the stories would always approach this climactic moment when the main couple would kiss. And then, it'd cut to black. They never let the romance climax to its logical conclusion, a sexual relationship. It's like watching a movie or reading a book and they'd cut out the most important part of the characters getting together.
When I first started reading these comics, it was to fill that void. There were a lot of fan comics on existing works. Here's the romantic relationship on that night in the anime they never showed. It's an extension of something I'm already enjoying. It's like fanfiction.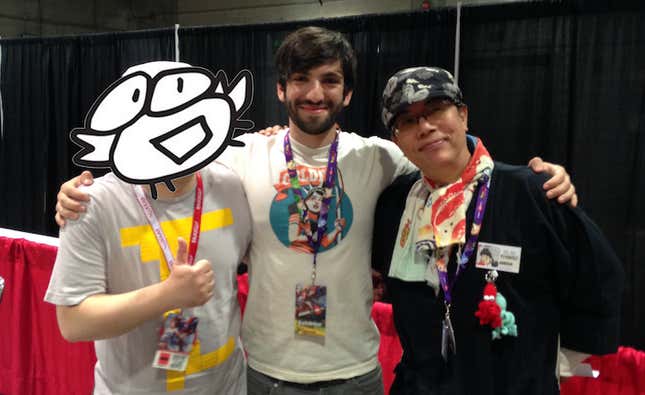 D'Anastasio: Especially on Toonami, they left a lot of things to the imagination. What was Chi-Chi and Goku's relationship like in Dragon Ball? They never showed us that.

Grady: For me, one of the defining shows was Kimi ni Todoke. Every episode started with the two characters shy around each other. By the end they were like, about to kiss. Then it'd end. I hated that so much. I really liked seeing the characters being developed further by fans. Comic artists in Japan are fans, essentially writing fanfiction in the form of comics and hentai.
D'Anastasio: How did you originally get the assets for Fakku's content?
Grady: When I made Fakku, it was purely a fan website. We'd find comics from Japan and fan-translate them via scanlation and fan-subbing. The goal was to create a community for this stuff, because, back then, there was no one bringing over hentai legally. Well, there were companies in the late '90s, but most had failed.
Fakku is actually a really selfish website where I made the thing I wanted to use, and I made the community I wanted to be part of. That was the original goal, to grow the community outside Japan. Early on in that first year, I made a post that said it'd be a dream to work with the Japanese publishers and put their books on Fakku. I never thought I'd actually be the one publishing them.
Grady: I think the audience was there. We're really lucky we were able to act at the right time. We owe a lot of that to Crunchyroll. They paved the way for convincing Japanese companies there's a market for their work outside Japan. A lot of artists viewed everyone outside of Japan as pirates who would never pay for anything.
D'Anastasio: I know from talking to Berserk scanlators that there was a big scanlation community in the mid '90s before that, and I remember how sites' forums and low-fi, scanned manga pages looked. What did Fakku look like in 2006?
Grady: If you were to envision the content on Fakku now as being all scanlations instead, that's essentially what it looked like back then. The design used to be a lot crappier. That's one of the weaknesses of the site now, though. It still looks like a scanlation website.
D'Anastasio: How did you coordinate the scanlations?
Grady: We had teams of editors and typesetters and things, all fans of the work. One of the first scanlations we did was this book Shoujo Material. It's the best-selling hentai manga in Japan. It's a book we've now officially published. Honestly, I think that's the coolest thing we're able to do. The artist retired off it and lives in the mountains in Japan and grows vegetables. When we got the rights to that book, we had to find someone to go up the mountain and find him.
D'Anastasio: You must have had some initial antagonism with the publishers, though. How did they forgive the scanlating and let you publish their manga legally?
Grady: Very early on in Fakku's history, I was paying for it out-of-pocket. I was taking out student loan money to pay off server bills, which is not what you're supposed to be doing with that. I'm sure Sally Mae would have been pissed if she found out. One month, I got a $3,000 bandwidth bill, and I was a 20 year old kid who was literally a librarian. I had a couple hundred bucks. I put a message up that said "Sorry," and people donated a bunch of money. I put the site back up. That was the moment I thought I was on to something.
The years after that, I ran it in my free time while I was at school and doing part time jobs. Four to five years into it, I moved down to Texas and worked at Bioware. I took two years off Fakku and let it run itself. I worked on my dream of making video games for a couple years. Then, I got bored and left and went back to Fakku.
D'Anastasio: Then what?
Grady: Even at that point, it was a fan scanlation website. Around that same time, a large publisher in Japan sent me an email requesting a takedown. We've taken notice of you since people in Japan are using Fakku. It was a strongly-worded legal threat. I replied, saying, Hey we took all your content down. This was never about piracy. It was always about bringing a bigger audience to you and to the audience. Total shot in the dark, I said, Hey, instead of taking this scorched earth approach to your fans overseas, where they can't read any of this stuff, you have all these fans around the world who want to read all this content. It's not about hurting the artists. It's about wanting to read and consume more content. They joined up with us and we negotiated a big publishing deal. A few months later, we announced it and, later that year, we published it. That was 2014.
It really was just me saying, Fuck it, you only live once, let's see. I flew out to Japan to meet the big company and a bunch of Japanese execs and artists. We signed probably the best publishing deal in regards to what we're able to do for any publisher outside Japan.
D'Anastasio: What makes it the best?
Grady: Around 1.5 years ago, we went premium-only. We have a subscription. So, in Japan, they have Shonen Jump and all these super popular manga magazines, and they have the same thing for hentai. Every month, you can buy the latest issue of various hentai magazines. There are maybe 10-15 really actives ones. Now, we're simul-publishing four of them. The same day they're made available to customers in Japan, they're made available to users on Fakku in English. Convincing the Japanese publisher to give us access to the work ahead of the Japanese street date is incredible. We can release it completely uncensored.
On top of that, paperback books and digital releases are DRM-free. It sounds like a marketing thing, but it's such a big deal. I don't want people to pirate our books, but we make it incredibly easy for people to pirate the books.
D'Anastasio: Who translates the manga now that Fakku isn't technically scanlating?
Grady: The team has grown. We have 20 full-time employees, three to four translators and 10 editors. They're working constantly.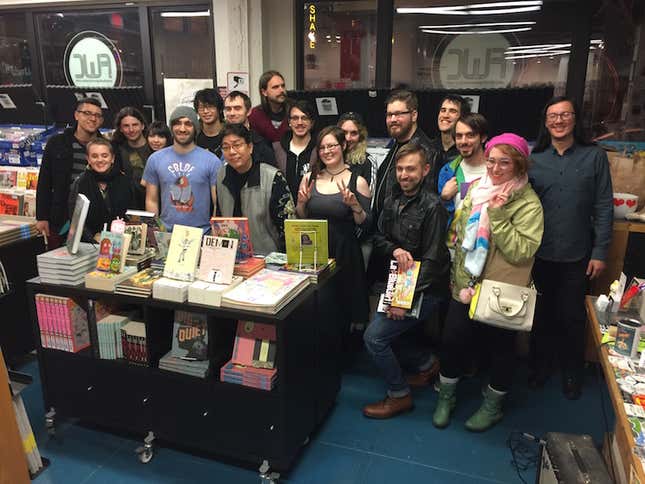 D'Anastasio: Damn, that is an amazing deal. What's your defense of scanlating, though?

Grady: I think scanlation fan-subbing has been a net positive for the most part. But I think the entire purpose of fan-subbing is for it to stop existing. As a scanlator, you don't wanna do it. You want to do it until the official thing is out. I think it's awesome we're at a point now with anime and manga where fan-subbing is going away and we get official stuff right away.
D'Anastasio: So, back to Fakku going premium-only. It pissed off a lot of people. Some even said you were betraying the hentai community, which, you know, loves free hentai. How do you respond to them?
Grady: That's something I've heard before. I think all the content we release is worth the price of the subscription or the book. If we did have a free tier, we'd be reliant on advertisers. I know Crunchyroll deals with this a lot, too. You sort of have to accommodate the advertisers as well as the users. I don't like the idea of being beholden to an ad company. A lot of people see it as us turning our backs on the community, but even a larger part of the community has embraced it.
I get to go meet these artists in Japan. I've gone out drinking with countless ones. They think all foreigners are pirates, and I want to change that perception. These artists have names. There's one named Bosshi we publish. He's in Japan. He types his name into Google and the entire first page is just pirated copies of his works. His website or Twitter aren't on the front page. That may have changed now because we actually protect him. Hearing that from the artist was like…. Woah.
D'Anastasio: On the topic of hentai itself, I'm curious whether you think there's an emotional difference between real porn and hentai, in terms of how people consume it. Some people say they feel more comfortable watching illustrated men and women do things than if a real person was doing them. Their inhibitions as viewers are lower. What do you think?
Grady: I think it's like that with comics in general. I don't view Fakku as a pornography company. I don't view the work we put out as pornography, like, "I delivered you this pizza, how do I pay you?" To me, that's pornography. I view what we're doing as publishing comics for adults. I have an expectation of our readers and they have an expectation of us where we all act like adults. We publish these works saying, Hey, not everything we publish is gonna make you happy. Sometimes we'll publish something that makes people sad or uncomfortable or elated. I'm viewing comics as a medium of creative expression. I want to be able to publish everything. I don't want to censor an artist in Japan or America.
D'Anastasio: Hm, I see what you're saying, but I'm looking at Fakku's front page right now. It's definitely hentai.
Grady: I certainly hear that. To me, it's all art. It falls under that umbrella. Obviously, we publish pornography. A lot of the time the stories we publish have an emotional impact outside of just masturbating. I've gotten to that point. I read a comic and I get sad or happy or jealous or involved with the characters. I think that exists in this medium of adult entertainment and doesn't exist in mainstream pornography. Granted, I don't seek out normal pornography with storylines. I'm sure it exists, but I don't know if it has the same impact as a story you'd read on Fakku.
D'Anastasio: I'm curious, though, how do you respond to people who might say some of things on your site are truly wretched, like rape, or sex scenes with "18-year-old" girls who appear much younger? It's stuff people aren't comfortable seeing a human do, but are into seeing animated people do.
Grady: With BDSM, people prefer hentai a lot. That's a genre where people say they straight up prefer hentai.
D'Anastasio: Is there anything on Fakku you're uncomfortable with?
Grady: We published a book called Metamorphosis. It's the story of this girl's downfall and drug use and sex life. It is a story that fills you with sadness. That's the point of the story. I wouldn't get off to a book like that. I felt sadness for this character. The title of the book is a reference to Franz Kafka's Metamorphosis, with the dude who turns into the bug. There are stories that make you uncomfortable. I like having my views challenged. I'm actually a super vanilla guy. I like romantic stories.
D'Anastasio: Right, but I don't know if you really answered my question. Are you comfortable publishing hentai manga, for example, about about girls who aren't 18?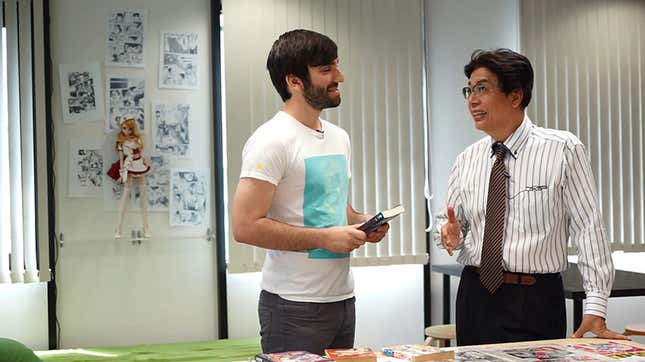 Grady: We don't back down from publishing anything. Shakespeare wrote about rape, about incest. Art has existed of characters of all ages doing God-knows-what for a long time. I wouldn't want to censor or change an artist's vision for something even if it's something that makes the reader feel uncomfortable. If it's a 15-year-old or whatever, I want to preserve that. Fortunately, it's something I've thought about a lot.

We teamed up with the Comic Book Legal Defense Fund, which protects comic book artist publishers and readers from the ramifications of reading something like that. I think art deserves to be protected even if the end result is a feeling of uncomfortableness.
D'Anastasio: What's your favorite thing you've published?
Grady: There's a book called After School Vanilla I really like. It's all these cute vanilla stories. Every book we've published has its special place in my heart. We've published 32 books since a year and a half ago. Four hundred artists.
D'Anastasio: What's next for Fakku?
Grady: We're working with a publisher in Japan to create a service like Fakku in Japan where Japanese people can pay a monthly fee and read manga. It doesn't exist.
D'Anastasio: How can that not exist already! Huh.
Grady: Fakku has been such a cool part of my life. I've seen people meet on the forums and get married. I think it's crazy I created a hentai website and people got married.
D'Anastasio: Thanks so much for your time.
Grady: Thank you!