The problem with April Fools' jokes is that 50% of the time I wish the prank product was actually real. Eidos Montreal contributes to the problem with their version of a prank: the "reveal" of an 8-bit Deus Ex game.
This 8-bit game, called Human Defiance, features Jensen again, with new weapons and sweet augmentations like an extendable arm for those tough button-pressing levels. Check the video above for some gameplay.
This is all well and good, but the tricky part is that the game's title actually has an official trademark. The trickier part is that it looks like it's a trademark for a film, which Luke hypothesized about yesterday, but ultimately guessed it had to be a game based on the official Deus Ex Facebook page representative's response to people commenting on the teaser.
So what is it? Just a joke? A movie disguised as a game for laughs? I've reached out to Square Enix to see if they have anything to add to the mystery.
G/O Media may get a commission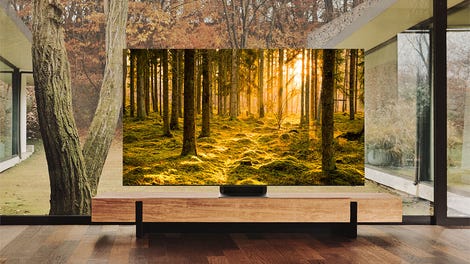 Up to 40% off
Samsung Smart TVs
Update: Eidos Montreal tells us that they wanted to have fun with "Human Defiance" after it was decided that they wouldn't be using the name: