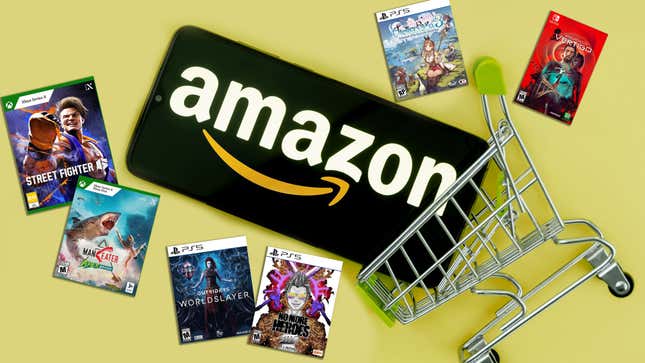 How's that backlog looking? What's one more? What's two more? Well if you were interested in grabbing a recent game you missed out on for a pretty killer deal, then there's some good news: Amazon's running a pretty killer deal right now that lets you buy one game and get another free.
Thank You, PS Plus, For Making My Backlog Even Bigger
While Amazon frequently runs deals and promotions like this, the opportunity to grab one game and get another free is more rare for the retailer, so it's best to take advantage of this as soon as possible.
While Amazon's buy-one-get-one deal is limited to certain games, these aren't meager offerings. Across Xbox, PlayStation 5, and Switch, you can snag some pretty sweet titles right now, with the usual B1G1 math making the cheaper of your pairing free. Note that the final price isn't reflected until you get to checkout, where you'll see a "Multibuy Discount" at the very end of the order. You can see if your selection of games qualifies for the deal on the sale's landing page.
Here are some titles to consider grabbing, note that the deal is exclusive to certain platforms. That said, Xbox One titles are compatible with Xbox Series X, as are PS4 games on PS5.
Among Us: Crewmate Edition (PS4) - $16.15
Atelier Ryza 3: Alchemist of the End & Secret Key (PS5, PS4) - $59.99
Atomic Heart - (Xbox Series X, PS4) $69.99
Back 4 Blood (PS4) - $15.20
Cuphead - (Xbox One) $29.99
The Diofield Chronicle - (PS4, PS5) $39.99
Dragon Ball: The Breakers Special Edition - (Xbox One) $18.29
Dying Light Anniversary Edition - (PS4, Xbox One) $39.88
Elex II - (PS5) $28.66
Goat Simulator 3 - (Xbox Series X) $19.87
JoJo's Bizarre Adventure: All-Star Battle R - (PS4, PS5) $19.99
Maneater Apex Edition - (PS4, Xbox Series X, Xbox One) $19.99
Marvel's Midnight Suns - (Xbox Series X) $35.01
Mount & Blade 2: Bannerlord - (PS5) $45.59
Nier Replicant - (Xbox) $18.01
No More Heroes 3 Day 1 Edition - (PS5, PS4, Xbox) $38.99
One Piece Odyssey - (Xbox Series X) $39.99
Outriders: Worldslayer - (PS5) $19.99
Pathfinder: Wrath of the Righteous - (Xbox One) $40.80
Raiden IV x MIKADO remix: Deluxe Edition - (Xbox Series X, Xbox One) $39.99
Scarlet Nexus - (PS5) $16.99
Steelrising - (PS5) $49.99
Street Fighter 6 Deluxe Edition - (Xbox Series X, PS4) $84.99
Valkyrie Elysium - (PS4) $24.99
These of course are by no means the only games included in Amazon's sale, so be sure to have a look on the deals page for other games that might catch your eye.
To mitigate any chance of the deal not working, we recommend selecting all your games on the deal's landing page and selecting "Go to Cart" from that very page.