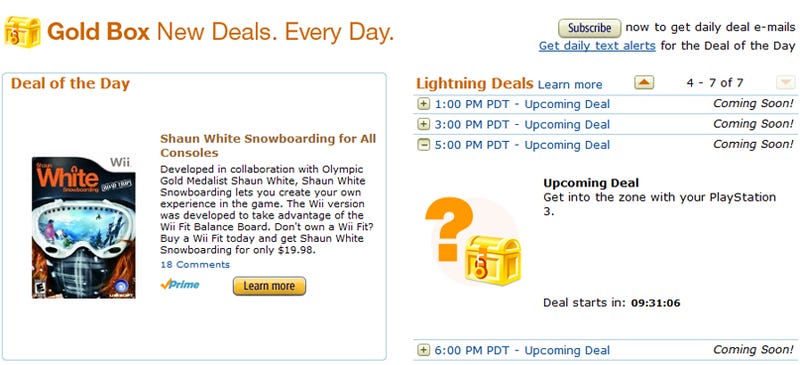 Rather than focus on any one console for their video game Gold Box deals today, Amazon.com keeps things fair with deals across all three consoles and both handhelds, with Shaun White tying them all together.
Ubisoft's Shaun White Snowboard was released on every console and the PC, so it serves as the Gold Box Deal of the Day, with prices ranging from $29.98 for the PlayStation 3 and Wii versions to $14.98 for a PlayStation 2 copy. By far the best deal is on the Xbox 360 version, discounted 55% to a mere $17.98.
The Gold Box deals unlock all day long, starting with Warriors Orochi 2 for the Xbox 360, currently available for $25.98. It'll be followed by some sort of Wii song pack at 10am Pacific, a Fire Emblem game for the DS at 11am, Trivial Pursuit for the PSP at 1pm, and Fallout 3 for the PlayStation 3 at 3pm. At 5pm the clue reads "Get in the zone with your PlayStation 3", which very well could point to a Killzone 2 deal, especially considering the deal only lasts an hour. The big day winds down at 6pm with some version of Guitar Hero World Tour for the PlayStation 2.
Not only are these Amazon video game deal days getting more frequent, they're getting bigger as well. How long before Amazon just spins off their gaming unit to its own store?