Gaming laptops are often an oxymoron, a device that either is too expensive or too big to really be a laptop or a computer too underpowered to play games.
But Dell and Alienware have been for years trying to find the proper balance between these two seemingly opposing issues. Their XPS was a monstrously large, monstrously fast laptop. The M15X, pared down the size, but was still beefy and pricey. Then came Alienware M11x, a 11.5-inch, 4.5 pound laptop that strives to deliver a gaming laptop that can actually be used on your lap.
Does the shrunken-down M11X deliver or does all of that downsizing mean the gaming capabilities shrunk too?
Loved
Size: Finally, a gaming laptop that isn't a back-breaking, flattened desktop. I still remember the absurdity of not just carting around the original XPS gaming laptop, but then opening it up to reveal a computer that literally didn't meet the definition of a laptop. The M11X is the perfect size for gaming on the go, not just gaming at a LAN party. Its compact form factor fits perfectly on an airplane tray, it's snug on your lap, but not so small that you feel cramped while gaming on it.
Battery Life: Thanks to some clever power management and the inclusion of a switchable graphics chip, the M11X manages to squeeze as much life out of a single charge as my costly ultra portable, letting me game my way through half the seven and a half hour trip to Hawaii or write on the laptop the whole way there with battery to spare.
G/O Media may get a commission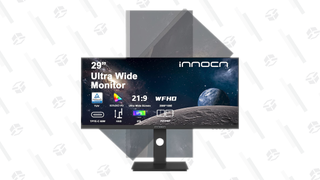 39% Off
Innocn 29" Ultrawide Computer Monitor
Weight: It's certainly heavier than my wispy Lenovo ultra-portable, which comes in at just 2.42 pounds. But 4.5 pounds is still a feather weight compared to most laptops and any gaming laptop I've seen.
Power Pack: That's right, I love the M11x's power pack. Why? Because I'm sick of gaming laptops that have monstrous power packs. The XPS' charger was nearly the size of an Xbox 360 power brick and weighed more than my laptop at the time. This one is a sensible power supply not much larger than ones used by typical, small laptops.
Sizzle: Despite greatly reducing the size of the laptop, Alienware still manages to pack in all of the neat little frills that make their laptops different. The keyboard is backlit and can be customized to display a rainbow of colors. The Alienware icon and power button is also backlit as is the name of the company. Each can get their own colors. Finally the laptop features twin speaker vents with adjustable colors. You can also use the provided software to have the computer flash different colors to alert you of things like new emails.
Feel: Writing on the M11x is quite comfortable thanks to a fairly wide keyboard and sizable palm rest. In fact, the M11x is as comfortable to write on as my Lenovo, a laptop I do all of my writing on while traveling. The difference is that my Lenovo, which rang in at nearly the same price as the M11X, can't run any games to speak of.
Load Out: The tech specs of a laptop are often the deciding factor in portable computer purchases. The form factor is a big deal, a huge deal, but you wouldn't want to buy a system that didn't scratch your muscle-power itch. Fortunately, the M11x's guts are as impressive as its size. Keep in mind that the smaller size and price do mean you do sacrifice some performance. This isn't the gaming laptop that the M15x is.
The M11x features an 11.6-inch 720p WLED screen, a 1GB NVIDIA GeForce GT 335M switchable graphics card, an Intel Core 2 Duo SU7300 1.3GHz processor with a 3MB Cache, 4GB of dual channel DDR3 memory running at 800 MHz and a 500GB SATAII 7,200RPM hard drive.It also have a built-in camera and mic, two headphone jacks, three USB and a slew of other ports including two memory card readers. Keep in mind this is the rig I tested out, each is customizable.
Price: Starting at $799, the system I reviewed came in at $1099, or still less then my fancy, but single-purposed Lenovo. Pricey? A bit, but not absurdly so.
Graphic Hot Swapping: Not quite the auto-sensing, auto-switching gee wiz tech of Nvidia's Optimus system, the M11X still has the ability to switch between graphics chip sets on the fly. By holding down the function key and pressing F6 you can quickly hop back and forth between the low-energy, low-functioning integrated graphics chip and the middle of the road GeForce GT 335M graphics card. This makes the screen black out for less than a second, but is incredibly easy to do. It also saves quite a bit of battery life. All gaming laptops need this functionality moving forward. Better still, Optimus' ability to auto detect when that needs to be done and do it automatically would be the perfect solution. Still I'll settle for this.
Hated
Touchy Touch Pad: It's crazy to think that gaming with a touch pad could be anything but frustrating, but the placement and sensitivity of the pad makes using it frustrating even for non-gaming at times. The problem is that the pad is located in the dead center of the palm rest. When typing, if one of your hands is hovering over the pad, something fairly common, it will interfere with the pad recognizing your finger tip. I keep catching myself and have to shift my left hand out of the way to move the pointer. I tried adjusting the sensitivity the other way and found it causing my pointer to hop around on the screen when typing. It's a common issue with touch pads, but that doesn't mean I have to be OK with it.
I can play Modern Warfare 2 on medium settings, tool around in Just Cause 2, check out Crysis, all while sitting on a plane with the laptop resting on the tray, a drink sitting next to it with room to spare.
Sure, this isn't the laptop you'd buy if you want to make sure it will run high-end, top setting games for the next five years, but if you're looking for a package that neatly combines gaming with affordability and true portability the M11X is your only choice.
The M11X was manufactured by Alienware in February. Retail starts at $799, the unit lent to Kotaku retails for $1099 USD. An M11X was sent temporarily to Kotaku for reviewing purposes and will be returned. Played games on it while sitting in a passenger seat of a car, while laying in bed, sitting on a couch and during a Colorado to Hawaii flight.
Confused by our reviews? Read our review FAQ.