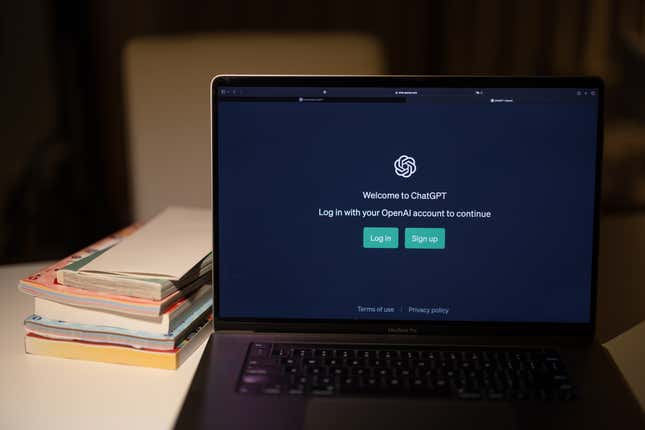 A class of seniors at a Texas university almost had their diplomas rejected and graduation rescinded, all because a professor reportedly used ChatGPT to falsely determine that the students' final essays were written by artificial intelligence.

Diablo IV Druids, Do This ASAP To Unlock Some Powerful New Abilities
Educators at large have differing thoughts on AI, but all of them have to contend with the reality that students have access to the technology. In a Rolling Stone report, students at Texas A&M University–Commerce were told on May 16 that their final papers were getting failing grades. Dr. Jared Mumm, a professor of the school's Agricultural Sciences and Natural Resources program decided to run the final papers he received through an artificial intelligence chatbot known as ChatGPT, believing that it would help him find out if the students enlisted the help of the software to write them. Unfortunately, because ChatGPT can't discern the difference between artificial and original thought, the AI chatbot claimed it penned every single paper.
"In grading your last three assignments, I have opened my own account for [ChatGPT]," Dr. Mumm's email, posted by redditor DearKick, read. "I copy and paste your responses in this account and [ChatGPT] will tell me if the program generated the content. I put everyone's last three assignments through two separate times and if they were both claimed by [ChatGPT], you received a 0. […] I will be giving everyone in this course an 'X.' There will be another assignment that you will complete if you are unhappy with the grade you see."
One of Dr. Mumm's student's never heard of ChatGPT
Reddit user DearKick, who claimed to be the fiancé of one of the students who received Dr. Mumm's email, told Rolling Stone that his partner had never heard of ChatGPT before.
"She feels even worse considering it's something she knows nothing about," DearKick told Rolling Stone. "She reached out to the dean and CC'd the president of the university," but DearKick said she didn't get any assistance.
Interestingly, Rolling Stone reports that students have clapped back against the erroneous accusation, supplying Dr. Mumm with copious receipts, including timestamps on Google Docs, to prove their innocence. According to DearKick, however, Dr. Mumm responded to students by stating that he doesn't "grade AI bullshit."
A separate student did use ChatGPT in Dr. Mumm's class
In an email to Kotaku, a Texas A&M University–Commerce representative said it's investigating the situation and is trying to determine the best practices for dealing with AI in the future.
"A&M-Commerce confirms that no students failed the class or were barred from graduating because of this issue," the school representative said. "Dr. Jared Mumm, the class professor, is working individually with students regarding their last written assignments. Some students received a temporary grade of 'X'—which indicates 'incomplete'—to allow the professor and students time to determine whether AI was used to write their assignments and, if so, at what level. University officials are investigating the incident and developing policies to address the use or misuse of AI technology in the classroom. They are also working to adopt AI detection tools and other resources to manage the intersection of AI technology and higher education. The use of AI in coursework is a rapidly changing issue that confronts all learning institutions."
Adding a wrinkle of complexity, the representative claimed one student did actually use ChatGPT in Dr. Mumm's class, but not for the final assignment.
"Currently, several students have been exonerated and their grades have been issued, while one student has come forward admitting his use of ChatGPT in the course," the rep said. "Several other students have opted to complete a new writing assignment made available to them by Dr. Mumm."
Kotaku reached out to DearKick and Mumm for comment.
The professor's actions transpired amid a lot of growing concerns around artificial intelligence. Things like ChatGPT and DALL-E not only have the potential to completely ape others' works without any attribution, but they're also seemingly—if terribly—capable of supplanting entire industries, rendering real people unemployed. It's a dark future that everyone, regardless of work, has to look forward to. But hopefully, through examples such as this, we'll come to realize AI's ineptitude.