If you've played Crysis 3 on the PC, you've probably noticed that the first level, even on a powerful system, chugs. Badly. It gets you off on the wrong foot with the game, because you start worrying more about hardware than the experience, and that sucks.
Stick with it, though; bizarrely, as the first level's tight corridors open up into vast expanses of a ruined New York, Crysis 3 runs a lot smoother. Which doesn't make sense, seeing as it should be the other way around.
This weird scenario has a weird solution, though: it's all to do with ropes. Yup. Ropes.
Modder MaLDoHD, who has done some very fancy work on Crysis 2, discovered that, for whatever reason, the ropes used in the level to hold up cargo containers are cutting people's framerates in half.
G/O Media may get a commission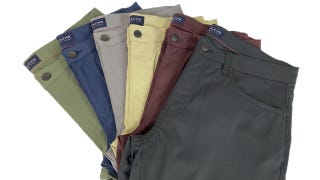 JACHS NY Fall Stretch Tech Pants
When the ropes are stationary, everything's fine and dandy at 60fps. If they move in the wind or are shot at, though, things can drop to under 40fps (that's the rate recorded by MaLDoHD... for me, it was much, much lower).
Strange, yes, and currently without a fix, but at least now you know it's the game's fault, and not that of your hardware.
Performance bug in Crysis 3 first level [MaLDoHD, via PC Gamer]