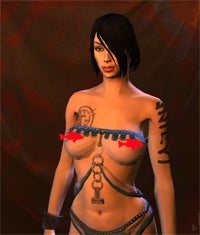 Funcom proudly announces that Age of Conan is now passing the one million copies shipped milestone, and with the game still selling out across the western world the number of subscribers should continue to grow at a steady pace. They're calling it the biggest simultaneous Europe/US game launch in history. Of course all of this success leads directly to the inevitable WoW-based marketing blurb.

"Sales data shows that Age of Conan is the biggest MMO launch since World of Warcraft," says Funcom Vice President of Sales and Marketing, Morten Larssen. "The numbers are very promising, and we are very proud to be one of the fastest selling PC games ever in a launch month and the biggest simultaneous Europe/US MMO launch in history."
I honestly never thought Age of Conan would do this well. Before I actually got my hands on the game all I had seen was some rather under impressive videos and a few lovely screenshots, but now here we are. Now let's see if they can get the promised features like PVP leveling turned on and get the bugs ironed out before they lose a good chunk of that million.
Age of Conan reaches one million milestone

- Standard edition sold out in numerous territories, hundreds of thousands additional copies now shipping - - Officially number one on the charts in all major markets -

Durham, USA – June 6th, 2008 – Funcom is proud to announce that Age of Conan will pass the astounding "One Million Copies Shipped" milestone, in less than three weeks after the launch of the game. Due to overwhelming demand Funcom's retail partner is now re-supplying retail boxes rapidly while also including new markets to the mix. As a result of the tremendous interest from gamers, Age of Conan has for the past few weeks been claiming number one spots on the sales charts across the western world – including the US, Germany, France and the UK – while receiving glowing review scores from gaming media.

"Sales data shows that Age of Conan is the biggest MMO launch since World of Warcraft," says Funcom Vice President of Sales and Marketing, Morten Larssen. "The numbers are very promising, and we are very proud to be one of the fastest selling PC games ever in a launch month and the biggest simultaneous Europe/US MMO launch in history."

In the US, Age of Conan has a strong # 1 chart position and is now moving past the 500.000 shipped mark. Meanwhile the attention for the game is growing across the globe, with over 8 million unique visitors from over 200 countries to the Age of Conan websites so far in 2008. The community surrounding the game is also growing fast, with over 800,000 signing up as members of the Clan of Conan fan club.

Age of Conan was launched May 20th in the US and May 23rd in Europe, receiving critical acclaim from media across the globe. "Age of Conan has raised the bar," wrote US gaming website Gamezone, giving the game a score of 94 out of 100. Gamespot, one of the world's leading gaming websites, rewarded Age of Conan a 8,5 score calling it "one of the finest online RPGs available". The game is also receiving acclaim in Europe, where a broad range of early reviews gave an average score of over 90 percent. Funcom is committed to continue to expand and improve on the game by adding more content, features and fixes in order to make Hyboria a favorite place for gamers across the globe, and players can expect some exciting news in the weeks and months ahead.

More information about the game can be found on www.ageofconan.com