Earlier this month at a supermarket in Japan's Kumamoto, 3-year-old Koko Shimizu went to the restroom while her mother paid for their groceries. Within minutes, the little girl was missing. Her body was discovered 500 meters away inside a large drain near a river.
A twenty year-old college student named Yoshihiro Yamaguchi was captured on the supermarket's surveillance camera entering the restroom. He emerged wearing the backpack that he'd had on since earlier that afternoon. It was the kind that expanded, and when he left the supermarket, the camera showed him carrying a bulky load. Inside, police say, was Koko's body.
And within forty minutes of when the body was supposedly disposed, Yamaguchi was inviting a friend to play online video games via text message. Initially, Yamaguchi invited his friend to game, but then suddenly said he was having issues at home, interrupting his online connection. But finally, he said everything was fine, adding, "I'm used to it, because this always happens."
The suspect's friend told reporters in Kumamoto, "Now that I think about it, it's really scary that he'd send a text message right after the crime."
Yamaguchi is currently in police custody. News reports state that investigator seized "obscene" manga and DVDs featuring very young children. The college student, who appeared on a televised debate in 2008 against his city's mayor, confessed to killing little Koko, but said that it wasn't his intention. "I didn't plan on killing her," said Yamaguchi. "I got scared, so I dumped the body."
G/O Media may get a commission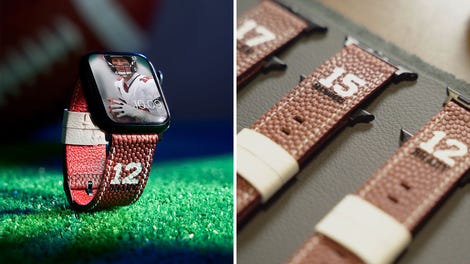 Official NFL PRODUCTS
Official NFL Apple Watch Bands
According to reports, however, Yamaguchi first appeared at the supermarket at 3pm that day with his large backpack. He spent most of the day hanging out near the capsule toy machines, ten meters away from the restrooms. Police say there is a high possibility that Yamaguchi planned to abduct a child.
Investigators say that Koko was grabbed and her mouth was apparently covered so she couldn't scream. Reports say that she was forced into the restroom for handicapped individuals or families (which are typically located between the men's room and the women's room), where she was strangled. Yamaguchi confessed to killing her, telling police that he then put her body in his backpack and lugged her to the drain near the river — a spot he played at as a child.
Family, friends and strangers have been leaving flowers and snacks at the supermarket and where Koko's body was found in memory of her tragically short life.
Culture Smash is a daily dose of things topical, interesting and sometimes even awesome - game related and beyond.
[Pic]