League of Legends publisher Riot Games announced major changes to their revenue structure today, addressing concerns waged against Riot by esports figureheads last month.

In an open letter, Directors of Esports Whalen Rozelle and Jarred Kennedy describe steps Riot is taking to ensure stability for esports players and teams. Riot is actively soliciting long-term investment in the scene from third parties, as well as adding more team-branded skins and items in-game. Riot will also be restructuring its approach to sponsorships and ad sales.
Large-scale investments in LoL's esports scene have raised the bar for player pay. As a result, teams' player retention has decreased. Riot's response to an explosion of high-profile interest in LoL, and its impact on teams' stability, is the following:

"As we invest and build towards the future, we recognize that the current ecosystem isn't consistently profitable yet for team owners or for the league. Costs have risen—namely in the form of player salary increases and support for those pros—mainly as a direct result of significant external investment and interest in the scene. . . That investment is a positive thing, especially for pros, but we understand it creates pressure for teams juggling costs in the short-term and we want to help them avoid cutting pro salaries and support."
Other concrete changes:
- Championship skin & ward - From now, 25% of revenue from each year's Championship skin and Championship Ward will be added to the Worlds prize pool. That means every purchase of Championship Zed will directly increase the prize pool for Worlds 2016. For context, had this been applied last year, it would have more than doubled the prize pool.

- Challenger skin - Similarly, going forward, 25% of revenue from each year's Challenger skin will be added to the MSI prize pool.

- Team Championship skins - Beginning with the winning team from this year's Worlds, we will be sharing 25% of the revenue earned on skin sales in the launch year of each set of Team Championship skins directly with the players who inspired them, as well as their team and league (because it takes a village to make a champion). In the spirit of celebrating past champions, we'll also be sharing revenue from past Team Championship skins with the previous winners - players, teams and leagues (Fnatic, TPA, SKT, Samsung White and SKT again)

- New (and improved) digital goods - Next year, we'll be introducing new revenue sharing opportunities, such as team-branded in-game items and esports promotions, as well as improving revenue sharing on summoner icons (World icons increasing from 20-30% and regional league increasing as determined by each league). We believe the potential for revenue is extremely strong for committed teams building strong brands - but given that these are new and untested products and we're looking to address an immediate gap in team revenue, in 2017 each league will set aside a guaranteed minimum to each of its teams as it determines appropriate based on regional needs. For example, the EU LCS will have a minimum revenue amount of €100,000 per team for the full season, of which 50% will go to players as supplemental income on top of their existing salaries
G/O Media may get a commission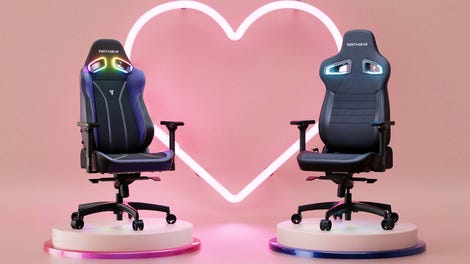 Up to $150 off
Vertagear Gaming Chairs
These changes are riding on the heels of recent debate over Riot's approach to funding it esports teams. Last month, Riot's co-founder and a prominent League of Legends team owner publicly debated over how to fund the growing LoL esports scene. Team SoloMid owner Andy "Reginald" Dinh called for higher prize pools and better infrastructure for players. "A huge issue is revenue opportunities for the teams," Dinj said in an interview, citing players' financial volatility. Sudden and unpopular patches, combined with Riot's apparently restrictive approach to sponsor-player relations, made investing in the LoL scene difficult for interested parties. That difficulty, Dinh said, directly affected profesional LoL players' ability to make a living.
On Reddit, Riot co-founder Mark Merrill fired back against Dinh. His argument was that Regi was diversifying his investments too much, not spending enough supporting his Team SoloMid: an accusation that Dinh says doesn't reflect the reality of LoL's volatility. The LoL titans' debates sparked a public conversation about whether the onus to properly compensate LoL players was on Riot or team owners. Merrill later revised his statement, agreeing with Dinh that "League esports (in its current form) doesn't provide the long term security and sustainability we ultimately aspire to for teams and pros."
He added that, in 2017, Riot plans to install that new revenue model—the one announced today.