Today at Anime Expo 2014, Harmony Gold announced their plans to bring back classic 80s anime Robotech via Kickstarter.
These Great Fortnite Creative Maps Show Us What's Possible
In 2008, Robotech creator Carl Macek (i.e., the man who took three completely unrelated anime and turned them into a single, coherent, multi-generational sci-fi epic) came up with the idea for a new Robotech animated series: Robotech Academy. Unfortunately, after working on the project in secret for two years, Macek passed away. But now, armed with Macek's notes, outlines, and even some partially completed scripts, Harmony Gold is looking to turn Macek's unfinished project into the series he dreamed of.
The plan is simple. Harmony Gold is asking for half-a-million dollars on Kickstarter to produce a 22-minute pilot episode for Robotech Academy. To learn more about the proposed series, I sat down for a little chat with the series' acting director, Tommy Yune.
G/O Media may get a commission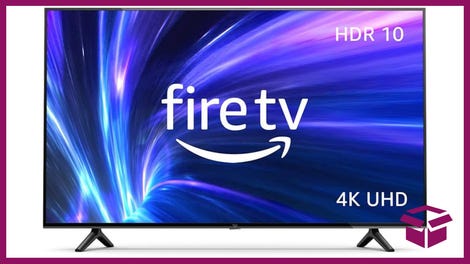 42% Off
Amazon Fire TV 50" 4K Smart TV
Robotech Academy takes place near the end of the second generation of Robotech—in the time and setting of the aborted TV series Robotech II: The Sentinels. However, as Yune was quick to explain, the series won't be following the Sentinels storyline nor the first-generation characters. "Carl's idea—because the story [of the Sentinels] had already been played out in novels and comic books—was to explore this 'universe' but with a new set of characters."
Thus, Robotech Academy follows the children of the original generation of heroes—the best and brightest humanity has to offer—as they attend the Robotech Academy, located far from the front. But with the future of the Robotech Expeditionary Force all gathered in one place (both in personnel and technology), the Academy turns out to be an inviting target—especially once the Academy ends up trapped in deep space, far from where it's supposed to be.
But just because the main cast is made up of new characters, that doesn't mean you won't get to see some familiar faces. "We'll have cross generational characters; but because it's in a different timeframe within the Robotech universe, some of them will look different—some will be significantly older and some of them will be younger," Yune told me.
Moreover, the villains for this outing won't be the Invid (the enemies of both the third generation and Sentinels). Rather, the antagonists are a mysterious splinter group of the second generation's Robotech Masters known as the "Children of Zor."
On the mecha side of the equation, Robotech Academy will contain brand new mecha designs (penned by Tommy Yune himself and Digital Art Chefs) that will act as a sort of missing link to connect the franchise's three distinct transforming robot designs. Of course, the real world reason that the mecha of each generation are so different is because the anime that make up Robotech were three completely unrelated series when they were released originally in Japan. However, Yune hopes to use Robotech Academy to turn this inconsistency into a wellspring of new stories. "We're connecting a lot of the dots—we're actually making the [...] original Robotech series fit better together with these backstories you'll learn in Robotech Academy."
The $500,000 goal of the Kickstarter will cover the complete design and production costs of Robotech Academy's pilot episode. Any funds raised beyond the original goal will go directly into producing more episodes. And as much of the setting art, mecha models, and character designs can be reused from episode to episode, subsequent episodes will cost less to produce than the pilot's half-a-million.
This also ties into one of the main reasons for doing the new series via Kickstarter: getting as much of the story out there as it was intended and thus performing preemptive damage control against future studio or network executive meddling. "The fans know what Carl is about—they would be directly supporting Carl's vision and this would allow us to really stick creatively closer to what Carl had in mind," Yune explained.
And, in an ideal future, getting the attention of networks and studios is the Kickstarter's ultimate goal. "If it gets subsequently picked up," Yune told me, "we'll let it go on as long as we can let the project go on."
Lastly, I asked what the creation of Robotech Academy would mean for the continuation of the Robotech: Shadow Chronicles films. Yune had this to say: "That's something we still want to do—that's something we have done, actually, a fair amount of work on. But the Shadow Chronicles have already been defined. We've already put our first step down in terms of getting that made. The thing about Academy is it doesn't have that kind of identity: but at the same time, it's something that Carl did—it was something very personal to him—and I think we all kind of owe it to him to get this done."
For more information on Robotech Academy, check out its Kickstarter page.
Kotaku East is your slice of Asian internet culture, bringing you the latest talking points from Japan, Korea, China and beyond. Tune in every morning from 4am to 8am.
To contact the author of this post, write to BiggestinJapan@gmail.com or find him on Twitter @BiggestinJapan.