Steam's offering a surprisingly huge midweek sale on a ton of mystery-themed games, including Gone Home ($8), L.A. Noire ($5), Alan Wake ($5), and a lot more. [Steam]
---
There's a lot to like about the Corsair M65: Eight programmable buttons, metal scroll wheel, configurable weights. What really sets it apart though is the three-zone backlighting system that lets you choose from 16.8 million colors independently on each side of the mouse. It might not help your gaming, but it'll look really cool. [Corsair Gaming M65 RGB FPS PC Gaming Laser Mouse, $58]
G/O Media may get a commission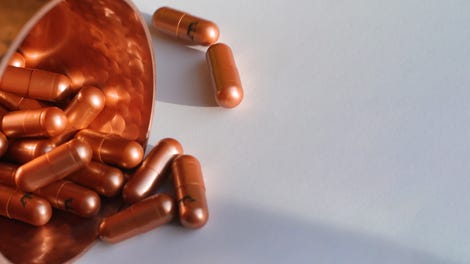 health
The Lyma Supplement
---
If this doesn't get you excited, you have no soul. [Carrera Go!!! Mario Kart 7 Slot Car Set, $75]
---
Two new preorder deals, courtesy of Newegg:
---
The DJI Phantom 2 Vision drone has descended below $1,000 today, just in time for tax refund season. This one comes with a built-in camera and 3-axis gimbal for silky smooth video, and Gizmodo gave it a terrific review. I want it badly. [DJI Phantom 2 Vision+ Quadcopter with FPV HD Video Camera and 3-Axis Gimbal, $999]
---
The GoPro Hero4 Silver has an MSRP $100 cheaper than the top-end Hero4 Black, but oddly enough, it's the Silver that includes a touchscreen. ¯\_(ツ)_/¯
Today on eBay, you can own the Silver for $50 off, with no tax for most buyers. [ GoPro Hero4 Silver, $350]
---
If you want great photos without worrying about buying and changing lenses, your search should start and end with the Sony RX100 III.
As long as you don't mind getting a refurb, you can save $200 today from Newegg. This is the first significant deal we've seen on this model, and I'd be surprised if it lasts long. [ Sony RX100 III, $600]
---
$26/TB is one of the best storage deals we've ever seen. [Seagate Expansion 5TB USB 3.0 Desktop External Hard Drive, $130]
Would you rather have three smaller drives? [ 3-Pack of Seagate 1.5TB USB 3.0 2.5" Portable External Hard Drives, $150]
---
I got a new TV about three years ago. It cost $700, it was smaller than this one, and it certainly wasn't 4K. [VIZIO 50-Inch 4K Ultra HD 120Hz Full-Array LED Smart HDTV, $698]
---
Here's an iPad Air 2 for the price of an iPad Air 1. 16GB only though, unfortunately. [Apple iPad Air 2 16GB, $399]
---
Today on Amazon, if you buy a 6' MFi-Certified Lightning cable, you can choose another accessory for free.
---
If you still haven't seen Neil deGrasse Tyson's Cosmos, the full Blu-ray is back down to its Black Friday price. [Cosmos, $20]
---
There's no shame in not being able to open that jar. Your hands were slippery! The refrigerator caused the metal to contract! Sitting at a computer for 8 hours per day has destroyed every ligament in your wrists! In any event, it's a non-issue, because you own this Hamilton Beach electric jar opener.
Sure, you can file this one firmly in the extraneous kitchen gadgets category, but extraneous kitchen gadgets can be awesome! And at $10, why not? [Hamilton Beach Open Ease Automatic Jar Opener, $10]
---
When global warming/solar flares/nuclear bombs/Twitter shade wars decimate the planet and the hardscrabble remnants of humanity develop a chewing gum-based economy, you'll be glad you read Kinja Deals. Just use your riches to build a shrine to us, or something. [ 5,400 Pieces of Dubble Bubble, $34]
---
Keyboard enthusiasts have a couple of great deals to choose from today. First, the ultra-clicky Das Keyboard 4 Ultimate has a $10 coupon on Amazon, which is one of the first deals we've seen on a non-refurb. The Das 4 comes with loud, tactile Cherry MX Blue key switches, a volume knob, USB 3.0 hub, and a Lifehacker Hive Five seal of approval (on the previous model). [Das Keyboard 4 Professional Clicky, $159 after $10 coupon]
Great as the Das is, it's really designed for typists. If you're more of a gamer, the excellent Logitech G710+ is only $100 today. The Cherry MX Brown switches are great for fast-twitch gaming, plus you get six programmable keys to run macros, and you can adjust the backlighting on the WASD keys independently from the rest of the keyboard. It's easy to see why the 710+ it was one of your five favorite gaming keyboards. [Logitech G710+ Mechanical Gaming Keyboard, $100]
Are you totally confused about why anyone would pay this much for a mechanical keyboard? Lifehacker has a great guide to explain the benefits and get you started.
---
One does not simply pay full price for Shadow of Mordor. Best Buy has it for $30 on all platforms today, and Amazon has the same deal for last-gen consoles as well, if you prefer to shop there. [Shadow of Mordor, $30]
---
Despite the awkward name, Wii Fit U is still a pretty innovative little fitness trainer, and B&H has the game/balance board/fitness meter bundle for just $40 today. [Wii Fit U Balance Board Bundle, $40]
---
If you own a game console, this is basically free money.
Bonus: We've seen 12 months of Xbox Live for $40 recently, but how's 13 months sound? [13 Month Xbox Live Gold Membership, $40]
---
If you need a last minute Valentine's gift idea (or if you just happen like reading), Amazon's knocking $20 off the Kindle and highly-rated Kindle Paperwhite from now until the 14th. Plus, they're offering great deals on a variety of Kindle Fire tablets, including the 8.9" Kindle Fire HDX for $180 off its usual price.
---
Personally, I'm not a fan of Adobe's subscription-based Creative Cloud plans, but if you need to have one, you might as well get a deal. This month on Amazon, if you sign up for a year of Adobe's $10/month Lightroom+Photoshop photography plan, you'll get a $25 Amazon credit. No, it's not a discount on the service, but it's something.
You don't have to pay for the entire year upfront, and it doesn't look like you'd lose the credit if you cancelled through Adobe once you got it. I don't want to promise anything I can't test myself (codes won't be emailed out until April, supposedly), but it seems like you can probably get the credit after paying for just 1-2 months of Creative Cloud. [Adobe Cloud Photography Plan + $25 Amazon Credit, $10/month]
---
Don't settle for Apple's overpriced Lightning cables.
Tech Armor Premium Apple Certified Braided Lightning cable - 6 Feet ($12) | Amazon | Promo code TECHCABL
Aukey MFi-Certified 3' Lightning Cable ($8) | Amazon | Promo code XP2SESID
---
Tea is great for you, but what's the best way to make it? That's what we're going to be voting on this week, and we expect to be steeped in great nominations.
---
Want your deals the old fashioned way? Sign up for this IFTTT recipe to get a digest of all our posts sent to your email every afternoon.
---
Gaming
---
Peripherals
PC
PlayStation 4
Xbox One
PlayStation 3
Xbox 360
Toys
---
Media
---
Movies & TV
Books & Magazines
Apps
---
Tech
---
Storage
Power
Headphones
Home Theater
Computers & Accessories
PC Parts
Phones and Tablets
Photography
---
Inventory
---
Find more deals over on Kinja Deals
Home
Kitchen
Bonus
---
Commerce covers the best products on Kinja Gear, finds you deals on those products on Kinja Deals, and asks you about your favorites on Kinja Co-Op, click here to learn more. We operate independently of Editorial and Advertising, and if you buy something through our posts, we may get a small share of the sale. We want your feedback.