Since time immemorial, Chinese internet cafes have been the hub, the nexus of all gaming in China. That's soon to change now with access to mobile devices, home computer setups and the advent of video game consoles in the Chinese living room.
Chinese news site NetEase has dedicated a slideshow to the "passing" of the net cafe. Net cafes in China have been on a slow decline over the years but NetEase might be using hyperbole. Regardless, the images looking back at Chinese net cafes are pretty interesting.
This photo, taken by Reuters in 1995, shows then President Bill Clinton inside one of China's first internet cafes in Shanghai. [Photo by Reuters]
G/O Media may get a commission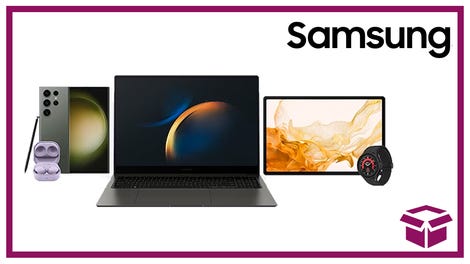 24 hour deals
Discover Samsung - Daily Deal
Early on in the 1990s, opening a net cafe was thought to be a way to quick riches. Computers were expensive so most people had to venture to a net cafe to get their fix. Owners could charge hourly and nightly fees, as well as make a sum selling food and beverages. They also made money selling recharge points for games. [Photo by Jiang Shangou, 东方IC]
The above image is more recent. A recreation of Beijing's infamous Blue Speed Internet Cafe is set up in a public safety museum. In 2002, four youths set fire to Blue Speed Internet Cafe resulting in the death of 25 people. [Photo by Xiaoyi, CFP]
After the Blue Speed incident occurred, internet cafes drew public ire. Students were told to avoid net cafes in a vein similar to saying no to drugs. In the photo above, the slogan reads "say no to net cafes". [Photo by Lu Chunyu, CFP]
This photo, taken in 2004, shows a series of young people avoiding the camera. They, according to reporters, were ditching school to spend time inside a net cafe. [Photo by Ma Jian, CFP]
The business of internet cafes is all about customers. Enterprising owners set up pick-up vehicles outside of schools to persuade school children to go to net cafes after school. [Photo from CFP]
New laws and regulations regarding internet cafes require cafes to log and register each entrant. The new rules require potential customers to register with their real world ID numbers. It also bars underage youths from entering. [Photo by Yang Hena, Lyu Luyang CFP]
By 2012, there were a total of 136,000 registered internet cafes in the country. The number of internet cafes dropped in China for the first time since 2004. [Photo by Shan Qing, CFP]
A group of senior citizens visit internet cafes in Shandong province in North China. These retired seniors have formed a committee to monitor behaviour in internet cafes. The goal is supposedly to prevent internet addiction and to persuade young people to spend less time online. [Photo by CFP]
《看客》第354期:告别网吧[NetEase]
Top Photo: NetEase
Kotaku East is your slice of Asian internet culture, bringing you the latest talking points from Japan, Korea, China and beyond. Tune in every morning from 4am to 8am.
Eric is a Beijing based writer and all around FAT man. You can contact him @FatAsianTechie@gmail.com or follow him on Twitter @FatAsianTechie.