Video games aren't just a wonderful present for children, they're also a wonderful opportunity to bond.
Playing side-by-side with your son or daughter gives you a chance to interact in ways typically off-limits to parents. You can see you child lead, make decisions, problem solve and team up together to defeat the bad guys. It's also, I've found, a lot of fun.
Here's a run down of the ten games my 9-year-old son and I played most together this year. Everyone has their own parenting styles, so make sure you research the games before you give any of these a try.
10: Lara Croft and the Guardian of Light (Rated Teen, PC, PS3, Xbox 360): This action-adventure title turns the classic franchise into a top-down cooperative game of problem solving and blowing away the bad guys.
G/O Media may get a commission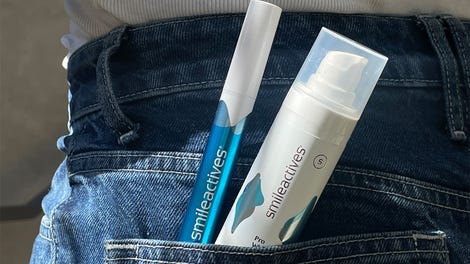 58% off
Whitening Powerhouse Pen & Gel Duo
9: Minecraft (unrated, PC): While this indie mega hit is still in development, gamers can already drop in to build and play. In the game, players spend the day chipping away at the landscape to dig out homes and construct monuments and then the nights trying to survive the blocky enemies that invade. You can also set up a private server to explore and build with your child.
8: Split Second (Rated E10, PC, PS3, Xbox 360): This Disney-published racing game has players tearing around race tracks built on giant movie sets. The tracks are packed with major events like explosions, building collapses and falling overpasses, all of which can be triggered by players as they race. The split-screen cooperative mode makes it a blast to play offline with your child.
7: Toy Soldiers (Rated Teen, Xbox 360): The biggest draw for Toy Soliders is its wonderful diorama graphics which deliver a playfield of plastic landscapes and toy soldiers. In the game, players need to defend their base from attacking German or British soldiers. A split-screen mode allows you to both play with your child at the same time.
6: Super Mario Galaxy 2 (Rated E, Wii): This second adventure returns Super Mario to space in a spaceship shaped like Mario's head. The ship travels to different galaxies, delivering a slew of levels for Mario to explore. A second player can help Mario by controlling an orange Luma which can grab enemies, attack them and shoot Star Bits.
5: Donkey Kong Country Returns (Rated E, Wii): While Super Mario Galaxy 2 received some of the highest review scores of the year, its somewhat limited cooperative play made it a lackluster hit in my house. Donkey Kong Country Returns, though, was a huge hit thanks to the ability to play as father and, perhaps, son apes. Donkey Kong and Diddy Kong each have important and unique abilities that help the duo get through the dangerous levels. Playing the game forces parent and child teams to work together to survive.
4: Kirby's Epic Yarn (Rated E, Wii): This has got to be the cutest game of not just 2010, but the decade. Players control yarn versions of already adorable Kirby and Prince Fluff. The entire game takes place in a world of yarn, stitching and buttons. Players need to hop and yarn-attack their way through the world trying to defeat the evil wizard Yin-Yarn. This is one of the only games I've ever called my wife down to look at. She was so enchanted by the aesthetic that she stayed to watch us play.
3: Dance Central (Rated T, Xbox 360 Kinect): Dance Central does what no wedding reception, New Year's Eve party or family gathering has ever succeeded at doing: It gets your child to want to dance with you. Well, dance against you. Using Microsoft's motion-sensing Kinect camera, players follow the on-screen characters to dance their way through popular choreographed songs. Most importantly, though, you can have dance battles with your child, proving once and for all who the king of the robot is.
2: LEGO Harry Potter: Years 1-4 (Rated E10, PC, PS3, Xbox 360): Tristan and I have played through every one of Traveller's Tales LEGO-themed video games, starting with their enormously popular LEGO Star Wars in 2005. With the release of Harry Potter both my son and I were thinking we were done with the LEGO games, but the developer managed to add enough improvements to the idea to make this latest title the best in its library. You and your child take on the role of Harry Potter and his friends as they make their way through the first four Harry Potter books and movies.
1: Toy Story 3 (Rated E10, Mac, PC, PS3, Xbox 360 Wii): Video games based on movies, much like movies based on video games, are often horrible. They're so bad, that I rarely spend the time to play them. But my 9-year-old son still believes in their potential. So when he first asked, then begged me to play Toy Story 3 with him, I finally gave in. Toy Story 3, which includes both a short campaign and a toy box world to explore, ended up being the game we played most this year. Why? Because of that marvelous toy box mode which allows you to create your own adventures, your own stories and challenges on the fly. Players can take on the role of some of the movie's mainstays, race, throw balls at each other and hunt for hidden treasures. The open-endedness of the game combined with my son's own sense of imagination had us playing and laughing together for hours at a time.
Well Played is a weekly news and opinion column about the big stories of the week in the gaming industry and its bigger impact on things to come. Feel free to join in the discussion.