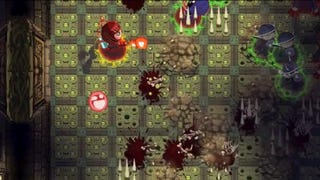 I love playing Gauntlet, but sometimes you want something faster, leaner and more aggressive. Indie hopeful The Hero Trap hopes to fill that void.
Nikita Mikros (One of the dudes behind the fantastic local multiplayer game Killer Queen) and Smashworx are trying to kickstart The Hero Trap, a multiplayer, dungeon roguelike in the vein of games like Gauntlet and Spelunky. And look at their adorable little characters gifs!






Oh man, I'm a sucker for a bear wrestler. Check out the trailer above or head over to their Kickstarter page here.
To contact the author of this post, write to chrisperson@kotaku.com or find him on Twitter at @papapishu.