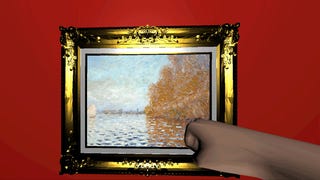 If you've ever been in the presence of priceless art, you may have at one point or another considered punching it (don't tell me it hasn't crossed your mind.) Andrew Shannon felt that way when he put his fist through a Claude Monet painting a few years back, and now you can relive that moment of senseless vandalism through the magic of video games.
Oh sure, there's not a whole lot to in punchamonet.gallery (a collaboration between Tom Galle, Eiji Muroichi and Dries Depoorter), but it sure is a great way to blow off some steam without being tackled by a MoMA security guard, arrested, and sued for millions of dollars.
And of course, don't actually go out and punch art.
punchamonet.gallery via The Creator's Project
To contact the author of this post, write to chrisperson@kotaku.com or find him on Twitter at @papapishu.