Today's the day LBP 3 reviews go up. However, for a game so reliant on online components, I'm waiting before passing judgement. In the meantime, here are some things you need to know.
This post originally appeared on Kotaku UK.
I've been playing LBP 3 for the last couple of weeks on PS4 and already, pre-release, it's added some new tutorial content and a patch, which is one of the reasons I'm holding off on a full review. Another thing to note is that, currently, much of the community content is legacy stuff ported over from the previous games. Admirable in terms of keeping everyone's creations and DLC, and adding plenty of things to play (about eight million levels to date) but it does mean a lot of what you find when you look at the 'busiest' or 'most hearted' levels is from the previous instalments, something that will obviously change as soon as number 3 is out. I've also had some issues trying to play the online co-op, with lots of lag and drop out but, considering the game wasn't out when I tried, I can't really call judgement on that yet.
Overall, however, it seems Sumo has done a great job of expanding on Media Molecule's creation, and you'd be hard pushed to notice a new studio has taken over. If there is any noticeable change in direction or style it's that Sumo seems to have made a very subtle lean towards more practical and immediate game-making tools, rather than Media Molecule's more raw components.
On to some key points:
G/O Media may get a commission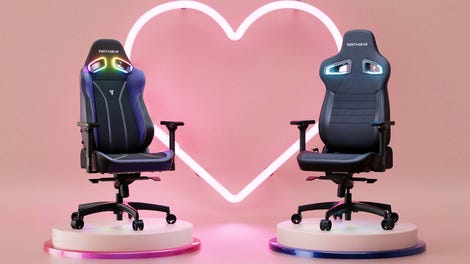 Up to $150 off
Vertagear Gaming Chairs
The Single Player's Short, So You Really Have to Want to Create This Time
The single-player side of the game is brief; I finished it in a single Saturday afternoon sitting. In the past it was more substantial, so if you weren't tempted by creation you could still have a decent-sized platforming adventure to justify a purchase. This time, not so much. What's there is great: creative and lighthearted, with some lovely ideas and uses of the new tools, layers and characters. If previous games brought a smile to your face then prepare to show some teeth all over again.
As far as the short length goes, Sony will argue that there's all those millions of user-generated levels to play, but the huge variation in quality, combined with the dedicated hunting required to find the good stuff, means it won't make up for a lack of dedicated single-player content.
More Thought Has Gone Into Game Creation Tools
One of the best things in LBP 3 is the more fully featured tools, and a leaning towards easier game creation. Where before you were more reliant on your ability to wire together pistons, sensors and other blunt bits and pieces, you can now use a range of things straight out of the box. There are Portal-like teleporters, instant zip lines and other ready-to-go devices that make it much easier to quickly create something others can play.
Here's something called a Veliciporter in action:
There's also a gadget called the BlinkBall, which lets you fire a small projectile at special targets and teleport instantly to them – the Portal influences continue.
Other stuff needs a little assembly, but still add large shortcuts to creation. My favourite is currently the Blaster Handle, which lets you easily turn anything into a button-triggered power-up of some kind. Guns being the most obvious:
It's Still Impressive Seeing What People Can Do
That thing up there's just a game's title, but sometimes the opening screens and other little fiddly bits are so beautifully done it's hard not to feel admiration for those that can wrestle such lovely creations from LBP 3's occasionally un-compliant tools. Discovering these little treasures – a beautifully designed mechanic or gameplay idea – is rewarding and inspiring. There's a reason most of LittleBigPlanet's level designers are recruited from the community.
But YouTube's Still the Best Way to Cut to the Good Stuff
Most of the cream of LittleBigPlanet's creative crop is always going to be harvested on YouTube. The content curation provides plenty of ways to browse the gargantuan amount of material produced – Team Picks, Newest Levels, Busiest, Most Hearted, Highest Rated, etc, etc. Realistically, though, you can spend a few evenings browsing and looking for stuff – sifting through the half-finished, the untested and the playable – or you can wait for Twitter, Tumblr and other online sources to bring the 'holy shit, you gotta see this' videos straight to you.
Creation is More Accessible
Choose to disable 'Advanced Creator Mode' when prompted and you're presented with a far less daunting range of tools. It definitely makes creation more inviting, with easier to grasp gadgets and concepts and more stuff you can use and place 'as is', without complex assembly or fiddling. There are also some great gameplay-based tutorial puzzles. Rather than a video and a quick hands on, you're now tasked with tweaking motors and changing piston settings (among others) to reach goals or complete levels. The practical focus makes learning easier and more enjoyable.
The new characters and basic tools have a greater range of pre-built functionality that make it easier to throw together gameplay. OddSock, for example, can run and wall dash, meaning you can make a Super Meat Boy-style game instantly with a few scattered hazards. Swoop can fly, so that's that mechanic ready to go. Toggle, on the other hand, can change between a large, strong form and small, fast one. Less obvious to apply but still full of possibilities.
The 16 layers (up from the old three) adds more literal depth and creative options. Especially when combined with jump pads and other moving gizmos that transport Sack Boy and objects in and out of the screen. Both the camera and the Poppit cursor can be a bit of bugger here, though. A couple of times I ended up scrapping the way I was building an object and re-thinking its construction from scratch, simply because a surface was unselectable when placing a microchip.
Of all the games in the series this feels, to some extent, like the one a complete novice will most probably be able to pick up and make something with. It's nowhere near Project Sparks' ready-built instant toy box, but far more amenable to quick, drag-and-drop construction than before.
Creation is More Terrifying
However, leave behind the easy mode's nursery slopes by switching on Advanced Creator Mode and abandon hope all ye who enter. The range and complexity of new thingumajigs is enough to make a bead of cold sweat run down your spine. Possibly it can already see the hours ahead, as you try to work out what everything does by bashing the bits together, and wants out. Once you take the step into Advancedland, you're on your own. Those excellent early tutorials for the basics are replaced by scattered videos for some, but not all, of the more advanced content (I'm guessing more will be added later, as the ones I currently have seemed to appear after a pre-release patch).
Everything has a short description, but it's not always easy to glean much from summaries like this:
The only real way to find out more is to grab that thing and stick it on something. Then you can see what options it has, the settings you can tweak and so on. Without a better idea of post-release support it's impossible to say how accessible LBP 3 will make itself past a certain point. The advanced stuff is as impenetrable as the basics are approachable.
I'm a veteran of the series and much of what I've seen so far scares the hell out of me – so many new gadgets and complicated little widgets to fiddle with and decipher. There are new things I've been using that I only understand because I've seen Sony demos at press events, so how Mr Walked-In-Off-The-Street is going to know stuff like that is beyond me. There's so much potential here, so much you can do, that it's almost impossible to know where to start at the best of times. Having loads of tools barely explained isn't going to make things any easier.
It Can Still be Hugely Frustrating
Commitment is still the biggest skill you'll need when creating in LBP3. Closely followed by perseverance. There's nothing worse than getting hours into a build and hearing that little snicky-snap noise and knowing something, somewhere, has broken.
In the process of making the level above, a previously stable wall started to randomly detach and fall after a couple of days, even though I'd not touched it since I'd put it up. While trying to make the fire extinguisher, the Emitter firing out the water initially refused to emit anything except fireballs for no discernible reason until I scrapped the whole thing and started over, then water worked. And, currently, all fire hazards only work in Create Mode, deactivating whenever I test it in Play Mode. They only break when I can't fix them and work perfectly when I can. I'm not even sure where to start with that.
It's that slight level of uncertainty and occasional instability that can flip the joy of creation to openly weeping frustration in an instant. One minute I'm almost giddy from the thrill of having an idea and seeing it come to life, the next I'm howling at whatever gods are listening. Have I made a mistake? Has the game fritzed out? Did I change something without realising? Who knows? It's down to you and whatever reserves of patience you have to deal with it. The more complex creations get and the longer the time invested, the more the risk. Often, options boil down to 'start from scratch' or 'spend hours (if not days) trying to find the problem'. At this point it's impossible to say if any of the problems I hit could be fixed with a launch day patch, but most of the issues did seemed reminiscent of similar LBP2 problems.
While I've been playing LBP 3 I've been continually struck by just how much it feels like a full game development system now. A highly stylised one, admittedly, but the process of creating, bug fixing and play testing is just as labour intensive. After many evenings spent trying to make things in LBP 2 I eventually made the jump to learn Game Maker (the program behind Spelunky, Nuclear Throne, Hyper Light Drifter and more), and I've been working in that ever since. I can't help but wonder if you're committed enough here, to brave the bottomless depths, whether you should think about making a similar leap.
There's So Much of It
You can import all your old LBP 1 and 2 content, as well as play all the old levels. It's an expansive collection of content but definitely quantity over quality currently, as a lot of levels are half finished, many are unplayable and others aren't really 'levels' as such, more Lego- or Minecraft-style inert creations that just exist: houses for example, or partly built landscapes. Whether LittleBigPlanet 3's tools change that remains to be seen.
Team Picks seems the quickest way to cut through all the crap to middling stuff. There you will find some beautifully made and - most importantly - playable stuff. There's a lot of almost mobile-influenced mini-games though rather than anything hugely substantial.
I Just Don't Like the New Faces
Sorry, this is a personal niggle but it bothers me. OddSock. Toggle and Swoop are fine in terms of gameplay, but their sock puppet style just doesn't match Sack Boy's more articulated and defined body. He has a proper head with a neck for example. Something none of the others have with their shapeless beanbag forms. Swoop, in particular, looks like the kind of thing evolution's been trying to avoid for years. They're the one part of the whole package that doesn't fit for me. I can understand why someone thought an update was in order, but there's something incongruous about this trio when set against almost anything else in the game's tightly defined art style.
---
This post originally appeared on Kotaku UK, bringing you original reporting, game culture and humour with a U from the British isles. Follow them on @Kotaku_UK.