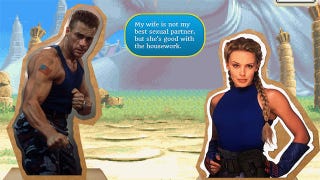 Did you know that, over the weekend, there was an indie game get-together called Jean Claude Van Jam? And that it was all about making games based on Jean-Claude Van Damme?
And that it happened only a few days after Van Damme gave perhaps the greatest Street Fighter-related interview of all time?
What an amazing time we live in.
While there were games like Master Tanaka's Flexibility Challenge and "Wrong Bet!" entered, my favourite is Show Her My Thailand: A Street Fighter Romance that drops you in Van Damme's shoes and charges you with securing sweet kisses and beautiful lovemaking.
The Kylie Minogue soundtrack over the top is just the icing on the cake.
Jean-Claude Van Jam [Site, via IndieGames]