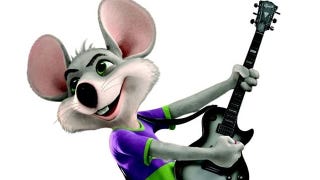 Not the restaurants, Chuck himself. See for yourself.
If this was looking for me to write something about how it looks like a b-side Dreamworks character from 1998, well, mission accomplished. An AP report describes the redesign as making Chuck appear "as a hip, electric-guitar-playing rock star".
Making things even more unsavoury is the news that Duncan Brannan, the voice of Chuck for nearly twenty years, only found out he'd been replaced when he heard the character's new voice online.
Chuck E. Cheese is of course a nation-wide chain of restaurant arcades, established in 1977 by Atari co-founder Nolan Bushnell.