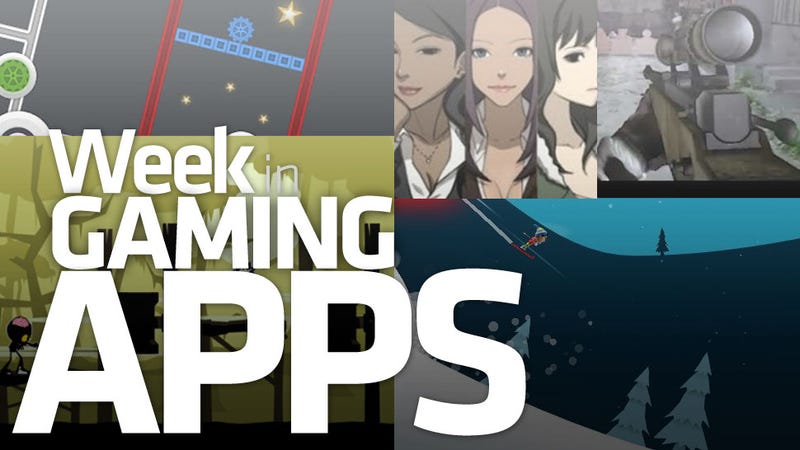 Do you want to mix some drinks, or turn your neighborhood into a war zone? Anything is possible with the magic of mobile gaming, probably!
It's another eclectic mix of genres and themes this week. There's an augmented reality shooting app; downhill skiing with an added hint of desperation; the obligatory physics puzzler; a game about dismembering a corpse; and the story of a girl that becomes a bartender.
If you told me ten years ago I'd be putting all of those things together in one list, I'd have wondered who you were and what you were doing in my mother's house.
Get out of there and go play some games! Or stay there. She makes a great baked bean casserole.
If you have a suggestion for an app for the iPhone, iPad, Android or Windows Phone 7 that you'd like to see highlighted, let us know.
Your living room is the setting of your next first-person shooter. Or maybe its your front yard. Or your office. It's up to you. More »
---
Defiant Development's Ski Safari is one of those annoying-as-hell games that doesn't have much to it other than an infuriating knack for making your finger hit the icon reflexively every time you even so much as glance at your iPhone. More »
---
I love a good story. In fact, I love a good story almost as much as I love a good drink. The two things come together in fine form in the iPhone and iPod Touch game Bar Oasis 1.5, a free sequel of sorts that bridges the gap between Bar Oasis and the pending Bar Oasis 2. More »
---
The best zombie games are those that let you play as the decaying, walking, blood-thirsty corpses rather than against them. More »
---
The idea of rolling a virtual ball around the screen is not new. Nor is the idea of a physics-emulating puzzler. What I'm looking for, when I try a mobile app fitting that description, is execution and charm. Amazeballs provides. More »
---