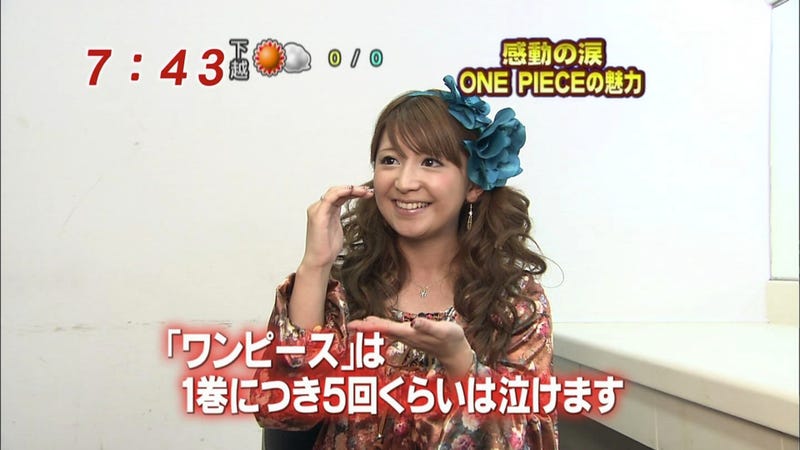 In Japan, One Piece is huge. Everyone seems to love it. Pop star Mari Yaguchi also professed her adoration for the manga.

In the above image, Yaguchi is saying that in one One Piece comic, she'll cry in five different places while reading it. "It's my favorite manga," she once said.
On this week's episode of popular variety show SMAPxSMAP, there was the "5th One Piece King Face-Off". Famous celebrities tried to answer One Piece quiz questions as fast as they could. The questions were not easy—they were hard. And the celebrities she was going up against were One Piece nuts.
This quiz was not for causals.
Yaguchi just kind of stood there, not pressing her buzzer. She went, "Wow" or "Oh right" when one of her rivals answered a question correctly. She scored zero points. On her blog she said she studied so much for the quiz, but she wasn't up to snuff.
Online and on Twitter the reaction from fans was one of wonder. Wrote one, "Is she really a fan?"
Yaguchi also professes to be a big gamer. She appeared in Yakuza 4 and has written for Japanese game mag Famitsu.
矢口真里に「にわか」疑惑浮上 ワンピースクイズ、1問も正解できず [J-Cast]