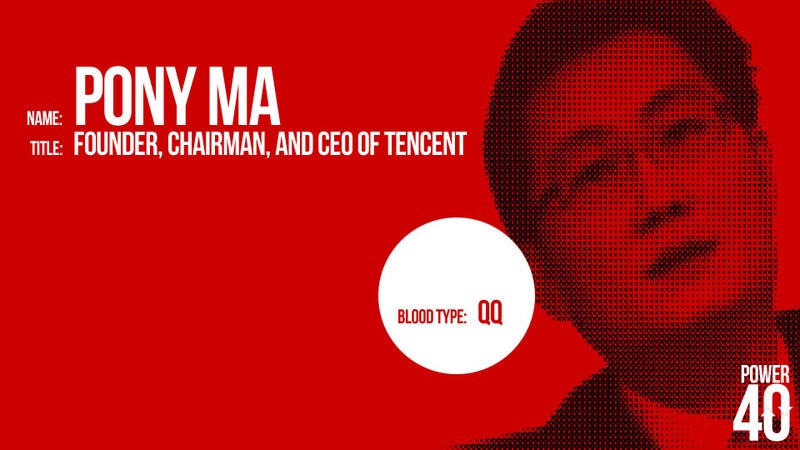 July 3, 2012 Update: Tencent's CEO goes up two placements for two reasons: 1) acquiring a stake in Epic Games, and 2) that new Call of Duty game they teamed up with Activision to make for China.
Feb 20, 2012 Update: Tencent will soon bring EA's The Sims Social to China. Have fun, China! But that doesn't merit Pony Ma an up or down move on the list. Not yet.
Why He's Powerful
We'll be honest. We weren't sure who to put here. But we were sure that someone in China is mighty-powerful vis a vis video games.
It could be the head of Tencent, we thought, because that company is quite large. They're a big Internet company in China. They've got 711.7 million IM accounts, when last they bragged about it in an annual report. They have an online games site they describe as making "mini casual" games (which we're sure sounds cooler in Mandarin and/or Cantonese). That site is called QQ Games, and they say they have had eight million simultaneous users on it.
But maybe Tencent doesn't deserve the high honor of being in the Power 40. Nay, perhaps it is Netease that deserves it, since they manage World of Warcraft in China.
Or maybe Hu Jintao, president of China should get this spot, since his government sets policies that have long affected which non-Chinese companies can even get a foothold in the market for video games and anything else. Or should we be giving it to Chinese premier Wen Jiabao?
We asked smart people. They said: Tencent. We're going with that.
Bonus Power Factor: Tencent owns Riot Games, makers of League of Legends.