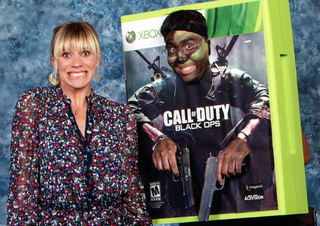 The gentleman who dressed up as the box of Call of Duty: Black Ops at this year's Fan Expo in Toronto was one of our favorite cosplayers of 2011. He starred in one of Kotaku's best 'Shop Contests and is currently featured in the all-star revue going on now.
He sends everyone here best wishes for 2012 with that picture of him and Katee Sackhoff, better known as Starbuck from Battlestar Galactica. "I can't tell if she liked my costume or not," Black Ops Guy said.
The full-size version is at the end of the gallery, in which Black Ops Guy shows us how he built his costume. Enjoy, and Happy New Year, everyone.