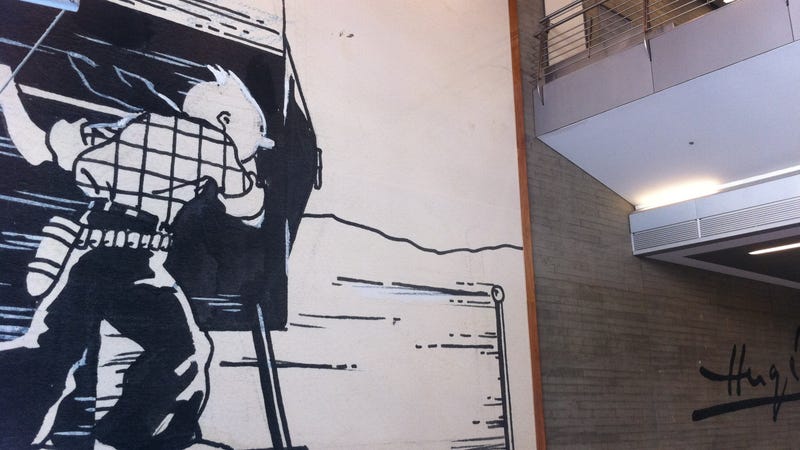 BRUSSELS - This larger-than-life panel from a TinTin comic adorns the main train station in Brussels. Almost made the layover there worth it. Almost.
For those unfamiliar with the Deus Ex franchise, it goes back to the year 2000 when highly hyped developer Ion Storm went on to develop a System Shock-inspired action game that combined gameplay elements of first-person shooters and role-playing games.
Deus Ex received immediate notoriety and was... More »
---
Either these cosplayers at PAX 2011 in Seattle were relaxing when they agreed to let me take their photo this past weekend, or they were role-playing the more mellow, never-before-seen alternate ending the second-best Zelda on the Nintendo Entertainment System.
For much more PAX cosplay, check out More »
---
You don't acquire the rights to one of video game's most famous characters without planning on doing something great with him.
And if you're Randy Pitchford, the Gearbox game development chief who expected to discover a "trainwreck" of a game when he set about reviving Duke Nukem Forever, you... More »
---
In today's maddening installment of Speak Up on Kotaku, commenter Wirebrain shares with us a board game that feels a lot like Capcom's famous survival horror series. More »
---
Every couple of weeks, we recommend some of the best games on the Xbox Live Indie channel. These are the games on the fringe of the Xbox 360 platform, made by average Joes and indie dreamers. More »
---
Gabe Newell has a problem.
The outspoken co-founder of Valve can't seem to get enough of one of his company's upcoming games. He's so into Dota 2 that he temporarily moved his office to be closer to the team making it. More »
---
Do violent video games cause aggressive behavior? According to a recent report published in the journal Psychology of Violence, the competitive aspect of gaming is more likely to generate aggro than mere violence. More »
---
You've heard Catherine's premise already: Commitment-phobic, indecisive Vincent must choose between marriage to longtime girlfriend, Katherine, and the allure of a sexy affair with a younger girl, Catherine. More »
---
The sequel to the popular Xbox Live Arcade game Trials HD isn't just about controlling motorbikes through difficult, side-scrolling stunt courses. That was the last game (and the one before that). More »
---
Just when you thought Zynga was out of ideas, it appears they're... not.
Adventure World, the newest addition to the Zynga family, seems to be channeling Indiana Jones, complete with threatening snakes. More »
---
Yesterday when I posted the news that Majesco was bringing the classic full-body board game Twister to the Xbox 360 Kinect, I figured it would at least maintain some resemblance of the original product. More »
---
This has been an obsession of mine ever since Cowboys Stadium appeared in Madden NFL 10-hit the Jerrytron, the arena's massive scoreboard, with a punt. More »
---
Sub-Zero, Scorpion, Smoke, and Reptile were made for loving you, baby, and you were made for loving them.
The PAX ninja quartet takes their friendship to the next logical level: More »
---
We like tips!
Got tips for our editors? Want to show the world your latest creation? Ready to anonymously share an unannounced game? Email us at tips@kotaku.com. Or leave us an anonymous voicemail at (612) 568-2581.
Want a different layout?
Click here for the Speak Up or Tips forums. Want a more "blog-like" look? Click the button up top next to "Top Stories."
Get more Kotaku!
Want even more Kotaku? Want to know which of your friends read us? "Like" us on Facebook and follow us on Twitter.