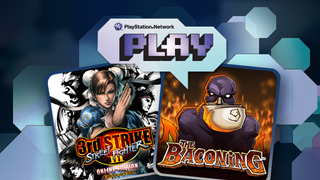 The brand-new PSN PLAY program is offering ridiculous rewards on awesome games right now. When you preorder any of the five eligible games, you'll automatically get a PS3 theme free. And if you buy all four PLAY titles, there's a voucher code for PAYDAY: The Heist waiting with your name on it. To sweeten the deal, every PlayStation Plus subscriber automatically gets 20% off every purchase.
All the PLAY games are currently $14.99, with the exception of PAYDAY: The Heist, which clocks in at $19.99. So wrangling them all up and earning a voucher for the latter isn't going to break the bank—particularly with PlayStation Plus discounts added on top..
The glorious Street Fighter III: Third Strike is already, out and when you purchase it through PSN PLAY, Gill will be unlocked for free. It's like the world's best cheat code: you'll get to play as the self-proclaimed god without having to beat the entire game with every character. And be sure to keep an eye peeled for the third installment of the DeathSpank series called The Baconing when it comes out tomorrow. If you purchase it through the PSN PLAY promotion, you get an additional co-op character, Roesha–-One Bad Mutha, completely free when she becomes available as DLC at the end of September.
Of course, these are just two of the action-packed games that make the PSN PLAY program so great. For more information about PLAY, upcoming preorder deadlines, release dates and information about the games, click here.