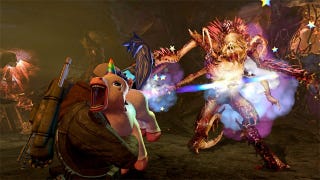 Well, one copy of Red Faction: Armageddon showed up at Kotaku's LA offices this week, so why not give it a spin this weekend, I say. I'll be playing Volition's latest while also burning my way through more of L.A. Noire.
But my primary concern is front-loading on sleep and getting some pre-E3 2011 stories written, impressions of games that you'll read more about next week. Hopefully, that should make for some less harried impressions pieces and more time spent on the E3 2011 show floor. (And hopefully that means some hands-on time with Dark Souls, which should be online and playable at the show.)
What about you? Playing anything good this weekend? Anything you're particularly excited about at next week's E3 show? Hit us in the comments.