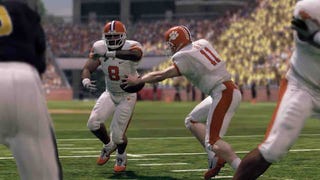 How awesome is it that Clemson's game against Miami today had to wait 15 minutes on ESPN2 for a buncha dang foreigners to finish runnin' around in a soccer game that ended with no goals.
ESPN2's new coverage of the English Premier League meant football trumped handegg as Sunderland and Manchester United played to a nil-nil draw. I'm half imagining a hundred IPTAY donors dashing off angry letters to their man in Congress to repeal whatever goldarn furn treaty it is that put this communist kickball on the teevee when Clempson is supposed to be on. And also to ask what'n the hell nil-nil is.
No game of the week this week. None were submitted. I definitely expect that to change next Saturday, what with the release of FIFA 11 last week and NBA 2K11 coming on Tuesday. It's not that hard to get your game featured. Just play one, jot down a couple sentences about why it was so awesome, and then get a picture - a crappy cell phone pic of the screen is just fine. Email it to me at owenATkotakuDOTcom with "Box Scores" in the subject header.
Please include your comment handle so A) I can give you proper credit and B) star you. Wha-whaaaat? That's right. It's an easy path to a commenter star here.
Now the Kotaku Sports open thread commences with the sports TV schedule for today and tomorrow. All times are U.S. Eastern.
College Football
State hosts Virginia Tech on ABC at 3:30 p.m., but you might also get Texas at Oklahoma in the Red River Shootout Rivalry from Dallas. Your other big games today are Florida at Alabama on CBS, 8 p.m., Penn State at Iowa on ESPN, 8 p.m., and the biggie, No. 9 Stanford at No. 4 Oregon on ABC (ESPN2 if you're in the Notre Dame-Boston College broadcast area) at 8 p.m. Georgia at Colorado, 7 p.m. on FSN, is your battle of resistable forces and movable objects.
NFL
Regional coverage, of course. Not many games jump off the page. Baltimore at Pittsburgh, 1 p.m. on CBS, is one. Washington and Donovan McNabb go back to Philadelphia at 4:15 p.m. on Fox. The undefeated Chicago Bears visit the Giants at 8:20 in the national game of the week on NBC. On Monday night, it's the Patriots at the Dolphins.
Major League Baseball
The final two games of the regular season are today and tomorrow. Atlanta, San Diego and San Francisco are battling for the last two playoff berths in the National League. The Padres are at the Giants at 4 p.m.; the Braves host Philadelphia. You may get the Yankees tuning up in Boston for some reason, too. These games are all on Fox today.
Golf
The Ryder Cup's second and final rounds are on NBC today and beginning at 7 a.m. tomorrow on same-day tape. That means spoiler alert if you're visiting sports websites.
Motorsports
NASCAR drops the flag on the Price Chopper 400, the third race in the Chase for the Cup, from Kansas Speedway in Kansas City, Kansas. Not often we get to use that dateline. Race is at 1 p.m.
Remember, you may send Game of the Week nominations to owenATkotakuDOTcom, and flag it "Box Scores" in the subject header. Please include your commenter handle for proper credit.