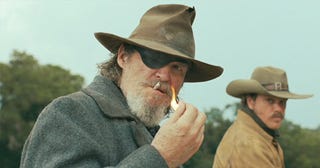 Warning: this episode of our nightly off-topic post, where anyone is welcome to comment on anything they want, might have an odor. Temperatures at Kotaku Towers West today reached a toasty 113º Farenheit and things got a little sweaty.
That's the hottest downtown Los Angeles has ever been, according to the LA Times, so excuse the perspiration-soaked nature of this post. Amazingly, California's highest recorded temperature was a blistering 134º, a peak set in Death Valley (naturally) in 1913. Rather than complain about knee sweats and a lack of AC, I'm staying positive. At least I don't live in Las Vegas or Baghdad, where people deal with this heat often.
Let's cool things down with some relaxing conversation, some non-video game related news and a trailer for True Grit.