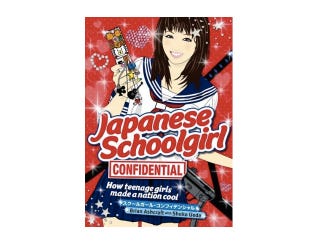 To: Crecente
From: Bashcraft
The question I've been getting recently a lot is: What does your wife thinking about you doing a book on Japanese schoolgirls? Well, I guess she's okay with it, because she, you know, worked on it with me.
The entire impetus of the book is to find out why schoolgirls are so pervasive in the Japanese pop culture zeitgeist. (And it's not simply, they're cute. The reason actually runs much deeper than that!) It's something that is always taken for granted. It's a given. Nobody has ever looked at Japanese schoolgirls across all disciplines — instead, they typically focus only on shopping or kawaii or cell phones. I wanted to look at it all and see what makes them so darn cool.
Believe it or not, I am not a Japanese schoolgirl. Nor have I ever been. So when I set out to pinpoint why the nation of Japan (kids, men and women alike) is fascinated with Japanese schoolgirls, I really need the input of someone who attended a Japanese junior high, a Japanese high school. In short, I needed the insight of a former schoolgirl.
I was talking to translator and fellow Kodansha International author Matt Alt about this in a roundabout sort of way. The thing he brought up is the importance of someone giving you an inside look into the culture. I could not agree with him more. Mrs. Bashcraft's insights on this book have been invaluable.
For years, she's been an unsung hero, working closely with me on articles, even finding stories for me to pitch. For that, I am eternally grateful! Working with her on this project has been a wonderful experience.
The book's name is Japanese Schoolgirl Confidential. It will be out this April in Japan (just in time for school to start!) and this August in the West (ditto!). As I mentioned, the book examines the Japanese schoolgirl as a pop culture phenomena in The Land of the Rising Sun. I interviewed some of the country's most famous actors, idols, artists and countless experts for it. I feel like it shows how the Japanese themselves view Japanese schoolgirls. Very proud of the finished product!
What you missed last night
PlayStation Move: Everything You Need To Know
How Japan's Push For Babies Helps Gambling
Medal of Honor Is Coming Back The Hard Way
True Crime Impressions: Finally, Dumpster Kills
PlayStation Move Gets Its First Wii Port