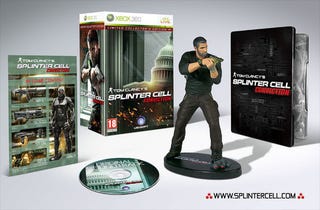 Ubisoft has already laid out its plans for a collector's edition version of Splinter Cell Conviction here in North America. But other territories will get their own higher priced version, complete with wee Sam Fisher.
Splinter Cell Conviction's collectors edition variant for "all European, Middle Eastern, Asian and Pacific territories" will contain the following, including an exclusive gameplay mode.
- An exclusive Sam Fisher statue
- Tom Clancy's Splinter Cell Conviction game in unique SteelBook™ case
- Infiltration Mode : Eliminate all hostiles in the mission area without being detected
- A special playable skin: Shadow Armor
- Early access to 3 weapons: SC300, SR2 and MP5
- The official Splinter Cell Conviction Soundtrack (more than 17 tracks)
That applies to both the PC and Xbox 360 versions of the game, due to hit the territories listed above on or about February 26.