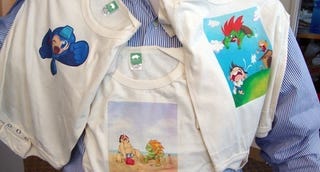 Seems Capcom USA (driving down the 101, San Mateo here we come ... ) has seen an employee baby-havin' boom lately. To properly indoctrinate the next generation, their offspring are romping around in Capcom-themed onesies with the drop-seat dumper flaps. Ha-POOP-en!!!
Snow's blog on Capcom-Unity showcased the six jumpers, ironed on with Dark Void, a zombie from Dead Rising, Mega Man, Salamander from Lost Planet 2, and the adorable Street Fighter babies (although I don't think they're from this piece of work.)
You know, the guy is single, but, I should talk to Seth Killian. I literally haven't seen him in nine months ...
Capcom Baby Swag = Cuteness Overload [Capcom-Unity via Go Nintendo]