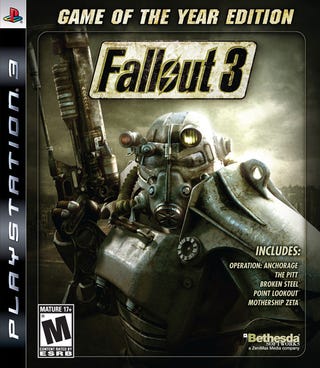 Good news Playstation 3 owners, Bethesda today released an update for your version of Fallout 3 that optimizes the game and clears the way for trophy support for the game's upcoming downloadable content.
The first DLC to hit the PS3 version of Fallout 3 will be Broken Steel, available Sept. 24. That will be followed by Operation: Anchorage and The Pitt on Oct. 1, and Point Lookout and Mothership Zeta on Oct. 8.
Bethesda also announced that the Fallout 3 Game of the Year edition for the Xbox 360, PlayStation 3 and PC will be available at stores on October 13.
The Game of the Year edition includes the game as well as all five downloadable content packs. The Xbox 360 and PlayStation 3 versions will retail for $59.99 and the Games for Windows version will be available for $49.99.