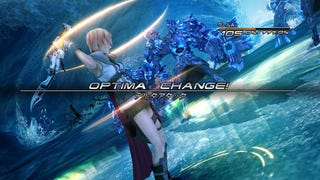 The Japanese release of Final Fantasy XIII might just do wonders for the PlayStation 3 in Japan, if the president of Famitsu publisher Enterbrain knows what he's talking about. A massive marquee game moving consoles? What you talkin' 'bout, Hamamura?
Look, that's what Enterbrain prez Hirokazu Hamamura said at today's Foreign Correspondents' Club of Japan, according to Bloomberg Japan and by way of Andriasang. And it doesn't seem unreasonable, considering the PlayStation 3 just sold 150,000-plus units in a week on the strength of a price drop and the release of yet another Gundam game.
Square Enix and Sony's plans for a PS3 bundle with Final Fantasy XIII packed in is sure to help that number, which, for the record, would represent about 15% of the PS3's sales to date in Japan.
Final Fantasy XIII will ship on December 17th in Japan, a date just recently confirmed by PlayStation overlord Kaz Hirai. Whether Hamamura believes that will all happen in the calendar year 2009, we're not sure, but that might be pushing it.
Enterbrain Prez Expects PS3 Surge From Final Fantasy XIII [Andriasang]