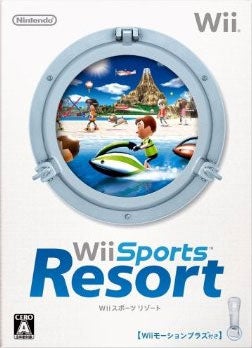 Nintendo's Wii Sports Resort is ensuring that Wii MotionPlus penetration is off to a good start in Japan, with the Wii game moving another 150,000 copies in its second week on the market.
That puts the Wii Sports sequel at more than a half million copies sold, according to Media Create, a feat sure to be made less impressive next week when Dragon Quest IX for the Nintendo DS lands in Japan. Debuting strongly beneath Wii Sports Resort is Sega's Hatsune Miku: Project Diva for the PSP, which outsells the recently released Mii-focused DS game Tomodachi Collection.
The only other new debuts were Sony's Boku no Natsuyasumi 4: Seitouchi Shounen Tanteidan, Boku to Himitsu no Chizu and EA Sports Grand Slam Tennis, the latter surely capitalizing on Wii MotionPlus fever.
And look! There's Infinite Space, back in the top ten. Guess my fears of the game's quickly dropping popularity were for nothing.
01. Wii Sports Resort (Wii) - 155,000 / 514,000
02. Hatsune Miku: Project Diva (PSP) - 101,000 / NEW
03. Tomodachi Collection (DS) - 63,000 / 237,000
04. Boku no Natsuyasumi 4: Seitouchi Shounen Tanteidan, Boku to Himitsu no Chizu (PSP) - 50,000 / NEW
05. Monster Hunter Portable 2nd G (PSP) - 14,000 / 776,000
06. Kingdom Hearts 358/2 Days (DS) - 13,000 / 492,000
07. Sloane to MacHale: Nazo no Monogatari (DS) - 12,000 / 168,000
08. Ken to Mahou to Gakuen Mono 2 (PSP) - 12,000 / 50,000
09. Rorona no Atelier: Arland no Renkinjutsushi (PS3) - 11,000 / 54,000
10. Infinite Space (DS) - 10,000 / 56,000
11. Wii Fit (Wii)
12. Pokemon Platinum (DS)
13. BlazBlue (PS3)
14. EA Sports Grand Slam Tennis (Wii)
15. Valhalla Knights 2: Battle Stance (PSP)
16. Gyakuten Kenji (DS)
17. Mario Kart Wii (Wii)
18. Tago Akira no Atama no Taisou Dai-1-Shuu: Nazotoki Sekai Isshuu Ryokou (DS)
19. BlazBlue (X360)
20. Taiko no Tatsujin Wii (Wii)
21. Agarest Senki Zero (PS3)
22. Pokémon Fushigi no Dungeon: Sora no Tankenta (DS)
23. Mario & Luigi RPG3!!!
24. Evangelion: Jo (PSP)
25. Shin Sangoku Musou 5 Empires (PS3)
26. Fate/Unlimited Codes Portable (PSP)
27. Metal Fight Beyblade (DS)
28. New Super Mario Bros. (DS)
29. Dragon Ball Z: Story Saiyajin Raishuu (DS)
30. Made in Ore (DS)