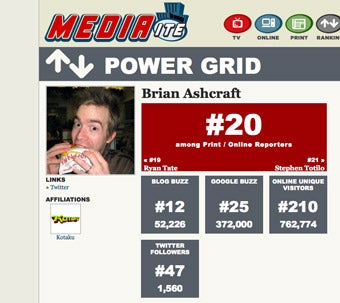 To: Crecente
From: Bashcraft
RE: The Number Nine
I'm SERIOUS. I think there are like maybe two hamburger eating pictures floating around there internet — and one of them ends up on this media ranking site. Very embarrassing! (The burger was effing delicious, though.)
...................which is why, that's it, I'm done, hamburger eating pictures are no more. Sorry!
Totilo showed me this site this morning. He's ranked 21. That means one thing? We're neck and neck. Not literally, you know. Figuratively, like.
What you missed last night
New Mechwarrior Game Confirmed, Will Reboot Series
Hey Pirates, Beware of Fake Dragon Quest IX Hentai Boobies!
GameStop's "Huge Sale" Does Indeed Seem Huge
Uh, Battlefield 1943, We Have A Problem
Hey, Resident Evil 5 Might Be Possible On Wii After All
(Congrats to Trish! Once you finish a novel, you are a novelist — it's something many talk about doing, but few actually do. Bravo for her for getting a book done.)
Confused about commenting on Kotaku? Read our FAQ.