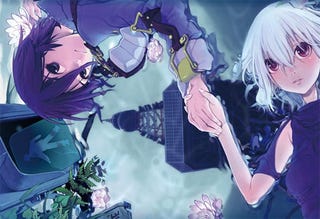 Namco Bandai and tri-Crescendo's role-playing game Fragile is coming to North American Wiis later this year, thanks to publisher XSEED. If you were a fan of Baten Kaitos or Eternal Sonata, this one's for you.
According to IGN, XSEED has picked up Namco Bandai of America's publishing slack, with Fragile: Farewell Ruins of the Moon arriving sometime this Winter. The game, which features the adventures of a boy name Seto in a post-apocalyptic world devoid of light, makes extensive use of the Wii remote, which acts as a flashlight and metal detector in-game.
The game seems to have been well received by Japanese critics and sold well, but not extremely well, when it debuted in Japan. The game looks spooky, the hair spiky, so we'd recommend JRPG fans check out more about Fragile.