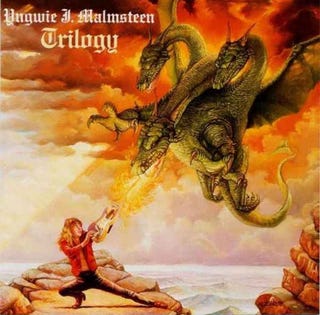 Wii owners get a dragon-slaying trio of Yngwie Malmsteen this week, which joins the Rock Band 2 downloadable music library on Tuesday, as well as a double-wide dose of Toby Keith.
It's a little bit country and a little bit rock and roll, obviously, as well as a little bit... whatever The Shins, Black Tide and Bullet for My Valentine would be categorized as. I've really only ever been exposed to one of the bands, mostly because I'm an old man, so I'll leave the pigeonholing of music into genres up to you. All five bands, new to the Wii version, arrive Tuesday, April 21 in the Rock Band 2 in-game music store.
Each track is the standard $2.00 (200 Wii Points) and are, of course, masters. Read on for the full lineup.
Toby Keith "Should've Been a Cowboy"
Toby Keith "Beer for My Horses"
Toby Keith "Who's Your Daddy"
Toby Keith "How Do You Like Me Now"
Toby Keith "She's a Hottie"
Toby Keith "I Love This Bar"
Yngwie Malmsteen "Red Devil"
Yngwie Malmsteen "Damnation Game"
Yngwie Malmsteen "Caprici di Diablo"
The Shins "New Slang"
Black Tide "Warriors of Time"
Bullet for My Valentine "Waking the Demon"