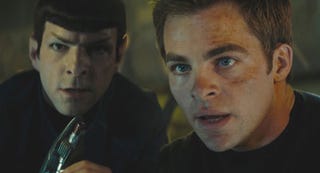 We've fired up the old PlayStation Home account to spend a few minutes with the cast and crew from the upcoming Star Trek movie, including J.J. Abrams, Chris Pine and Zachary Quinto. You can watch!
So far, it's been described as "the most surreal event in the world" by Quinto. It's also fairly well organized chaos. We're in Home now, ready to ask a handful of nerdy questions, questions that are just as nerdy as any of the other questions being lobbed at the trio. You can watch the thrill of avatars speaking to more famous avatars in almost real-time with the online stream.
Then watch as we body pop in front of world famous directors and movie stars. It promises to be magical.
Star Trek Filmmaker Q&A In PlayStation Home [Star Trek]