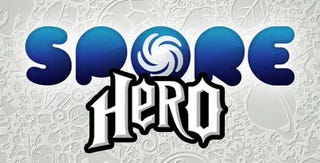 Electronic Arts has plenty of Spore planned for 2009, as it revealed in January. Two Spore Hero games, one for the Nintendo DS, the other for the Wii have been under wraps until now.
EA shared details on the Wii version of Spore Hero with MTV Multiplayer, pointing out that it's not just a down-rezzed down port of the original Spore for Windows and Mac. It's actually more limited in scope, focusing mostly on the game's Creature stage, seemingly bypassing much of the late-game events.
"It takes advantage of the controls explicitly. And even stylistically, when you see the game, you'll go, 'Oh yeah, that's definitely a Nintendo Wii game,'" EA's Lucy Bradshaw tells MTV. We're not sure if that's a good or bad thing just yet, but EA had us prepared early, saying in the original Spore Hero press release that it "takes players on an exciting adventure through a beautiful, colorful world."
Expect some serious motion control evolutionary fun, as MTV stresses that Spore Hero features "heavy" amounts of motion control. That plus Spore penis monsters is sure to make headlines somewhere.
New Details About EA's Wii-Exclusive 'Spore: Hero' [MTV Multiplayer]