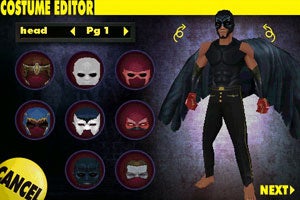 Watchmen: The End Is Nigh isn't the only game shipping alongside the release of the big-budget, over-advertised adaptation of the graphic novel. There's an iPhone game coming too, the online multiplayer Watchmen: Justice Is Coming.
Described as a "multiplayer online adventure fighting game," Watchmen: Justice Is Coming brings post-Keene Act, pre-events of Watchmen vigilante action to the iPhone and iPod Touch. The game uses Last Legion's cloudMMO tech that will allow on-the-go gamers to experience "an ever-changing gaming environment, chat with other players and participate in street battles."
That means isometric adventuring on the rain-soaked streets of an alternate universe Manhattan, plus one-on-one fighting game mechanics. Watchmen: Justice Is Coming looks to offer vigilante avatar customization and a "skills editor."
Release date is "early March" with no price point offered in the announcement.
More tiny screenshots of the iPhone game is available at the official site.
Watchmen Justice Is Coming [Official Site]