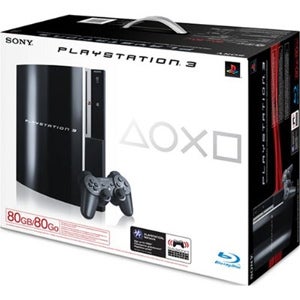 Today's video game deal of the day on Amazon.com takes a substantial chunk of change off of the 80GB PlayStation 3, marking an excellent time to pick one up for those so inclined.
While supplies last, Amazon.com is selling the 80GB version of Sony's PlayStation 3 console for only $349.98, shaving $50 off of the suggested retail price. As it is one of those Deals of the Day, supplies are limited, and once they are gone, they stay gone. Reader Kevin informs us that it looks like the five free Blu-ray disc deal also applies with this discounted price, so you can jumpstart your Blu-ray collection along with adding a shiny black game console to your house in one fell swoop.
Every day that passes I feel more and more silly for spending $600 on the 60GB at launch. Then I slip in a PlayStation 2 game and feel much better about it.