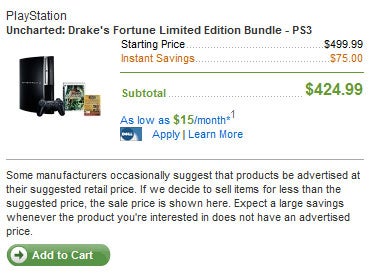 Sure, 360 consoles are getting cheaper, but they're still not cheap. And the PS3? Yeah, nowhere near cheap. So it's nice to see, of all people, Dell come to the rescue.
They're currently offering crazy prices on both 360 and PS3 consoles, slashing $60 off the price of an Elite 360, $90 off a Pro 360 (as an Endwar bundle), $75 off the 120GB Uncharted PS3 and $60 off a vanilla 80GB PS3.
Those are as hefty as official cuts, so they're definitely worth a look if you're still sitting on this generation's console fence and have some Christmas cash still lying around.
PS3 [Dell]
360 [Dell]
[via Silicon Valley Insider]