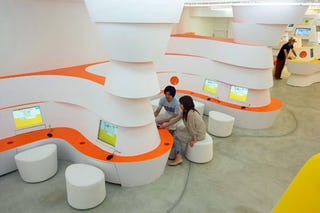 Looking for a cool place in Tokyo to try out online games? Try "flatflat" in Harajuku.
The narrow space (3.5 meters by 45 meters long) was designed by Japanese firm Sako Architects and allows folks to check out online game portal Hangame — and do it in style.
The concept for the space is a "future park" where space age designs meets a curved cave motif. More pictures in the link below.
'flatflat' store in harajuku, tokyo by sako architects [Design Boom via JeanSnow.net]