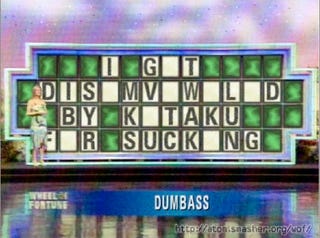 The big news this week: Rock Band 2's dates slipped out, Rockstar finally goes ahead and tells us GTA IV is coming to the PC, and Crecente is gonna blast his genetic material into outer space. But wait, there's less: The Tower formally unveiled the penalty of "disemvoweling," which means miscreants who don't necessarily commit banhammerable offenses will have a, e, i, o, u and sometimes y removed from their comments.
Jst dn't mk mstrbtn jks t Crcnt's xpns nd vrthng wll b lrght. Hr's sm hghlghts frm th wk n rgnl rprtng, wth th fll lst fllwng th jmp:
Kotaku's New Tool: The Straight Razor of Disemvoweling
Wheelman: Another Game With Vin Diesel
Blitz II: Like Madden, But Doggy Style
Rock Band 2 Dates Slip Out
5211: World Braces for Crecente Clone Army
Rockstar: GTA IV For PC in Nov
Here's A Wrestling Game For You TNA Fans
I Am 8-Bit 08 Art Show Opens Next Week
More MK vs DC Impressions, Any Left Over Crow?
Diablo III Art Director Quits, Game Remains The Same
Frankenreview: PixelJunk Eden
SOCOM: Confrontation Will Make You Love PSN
Eternity's Child Review - Pretty Hate Machine
Behold, Your Tales of Vesperia Collectors Edition
You Will Never, Ever Game On This 40-Foot Rig (With 27 HD Monitors)
Fury Servers Shutting Down, Website Disappearorating
Home Beta Expanding to the Media
The Last Guy Review: Run From The Zombie Monsters!!
Trekking to Penny Arcade Expo
Picture was created at Atom Smasher.