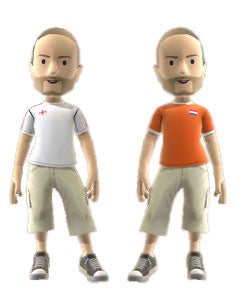 There's a whole swathe of new clothing options for your 360 avatar today. Thing is, unless you're European, and a European football fan at that, they won't be of much use to you.
Eighteen shirts were added today, to make up what Microsoft are calling the "European National Football Teams" collection. If Europeans/football fans were hoping this meant avatar-ready versions of their national team's actual kit, however, they'll be disappointed, as they're actually just...t-shirts. With a little flag on them.

The 18 countries available are:
Austria
Belgium
Denmark
England
Finland
France
Germany
Ireland
Italy
Netherlands
Northern Ireland
Norway
Portugal
Scotland
Spain
Sweden
Switzerland
Wales
Strange they went with European teams instead of something with a more American flavour when the Super Bowl is only a matter of days away.