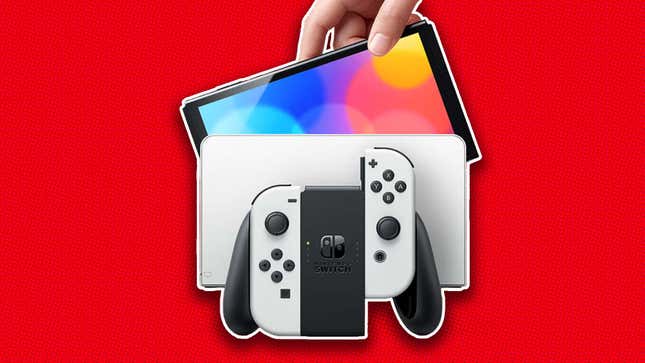 Now that 2022 is over (thank God), the NPD group has done its thing, collecting and processing all the resulting sales data. Now we can look back at the last 12 months and see what games and consoles sold best, and how much money people spent on this stuff. Shocking nobody, Nintendo had another successful year while Elden Ring nearly topped the charts, beating out both God of War and Madden. 
Grand Theft Auto 6 Comments: A Dramatic Reading
Yes, it's once again that time of the year when the NPD Group—a decades-old retail tracking and market research company—releases data on what people bought last year. While the group tracks and monitors many different industries, since 1995 it's monitored the sale of video games and consoles in the United States, and usually publishes some of this data every month.

Nintendo is likely pleased to see that in 2022 the top-selling video game console in the United States was the Nintendo Switch. The NPD doesn't release specific sales numbers publicly, so we don't know just how many Switch consoles were sold this year, but Nintendo's aging console outperformed the PlayStation 5, which was the second best-selling platform last year, and Xbox Series X/S, which came in third. It should also be noted that the Switch was the best-selling console of December 2022 so it appears the Switch is still the hot item to get around Christmas. And two new Pokémon games in 2022 (even if they were buggy) probably helped, too.
Late last week, the NPD Group also released its list of the 20 best-selling games of 2022. Before we jump into the list, remember that Nintendo doesn't share its digital numbers with the NPD, potentially hurting its own games' rankings. But anyway, here's the NPD top 10:
Call of Duty: Modern Warfare 2
Elden Ring
Madden NFL 23
God of War: Ragnarök
Lego Star Wars: The Skywalker Saga
Pokémon Scarlet/Violet
FIFA 23
Pokémon Legends: Arceus
Horizon Forbidden West
MLB The Show 22
While Elden Ring was on a roll this year and still ends up as the second best-selling game of 2022, it wasn't able to defeat the juggernaut that is Call of Duty. There's a reason Activision continues to focus almost all of its resources and studios on Call of Duty: because it makes a lot of money. And as always, some big-name sports games and console exclusives fill out the rest of the list. This data is also a great reminder that most folks outside of the people reading this or commenting below don't care about bugs, as Madden NFL 23 and the new Pokémon games launched in fairly rough states yet they still cracked the top 10.

Now that 2022 is over and done with, it's time to place your bets for the best-selling game of 2023! The Legend of Zelda: Tears of the Kingdom seems like a solid bet…assuming it releases this year.