As the Nintendo DS enters its sixth year on the market, introducing its fourth major iteration, the Nintendo DS XL, the software line-up is looking good, especially if you're a fan of portable role-playing games.
The DS's 2009 was solid and varied, with an all-new Legend of Zelda, Rhythm Heaven, and Mario & Luigi Bowser's Inside Story hitting alongside third-party contributions like Grand Theft Auto: Chinatown Wars and Scribblenauts. But 2010 may provide the DS owner with even more bang for their buck, thanks to the following first and third-party games.
These Great Fortnite Creative Maps Show Us What's Possible
Yes, 2010 will be a very good year for the core gamer, even better for the RPG enthusiast. But will it also something to offer beyond epic adventures and sequels to earlier DS games? Well... let's take a look at some of 2010's nearly confirmed lineup.
Note: We'll be looking at every platform's currently announced and estimated 2010 slate over the course of the rest of the week-and much much more.
G/O Media may get a commission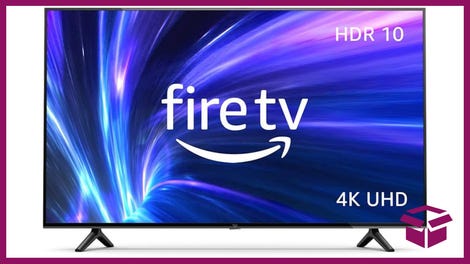 42% Off
Amazon Fire TV 50" 4K Smart TV
Golden Sun DS
The beloved Game Boy Advance role-playing game series continues on the Nintendo DS following an all too long hiatus. Details are scarce, but the game should feature a cast descendant from the original Golden Sun games' heroes.

Glory of Heracles
Nintendo kicks off the year with this Greek themed role-playing game, the sixth in the series, but the first to find an audience outside of Japan.

Okamiden
Capcom's sequel to the Clover fan favorite goes infinitely cuter with the introduction of Chibiterasu, the young pup who may be the son of Okami's Amaterasu. The game's Celestial Brush drawing action should work well with the DS's touchscreen.

Professor Layton & The Final Time Travel
Nintendo hasn't announced a North American release for the third Professor Layton puzzle adventure, but if it sticks to its schedule, it will hopefully deliver The Final Time Travel in 2010.

Picross 3D
It's on Nintendo's release list, but without a date. Frankly, if Nintendo of America doesn't see fit to deliver the 3D spin on the addictive nonogram title sometime in 2010, we'll personally fly to Nintendo HQ and start busting some heads.

Dragon Quest IX
Square Enix's mega-popular (in Japan) role-playing game series should make the transition from console to handheld here in the Americas sometime this year. The publisher just recently trademarked the game's subtitle in English, so we're hopeful that slime-slaying is within our grasp.

WarioWare D.I.Y.
Nintendo's create-your-own WarioWare microgame software will offer as many nose-picking games as players can come up withn. Create, share and play games that take mere seconds to play.

Final Fantasy Gaiden
Another Square Enix role-playing that isn't confirmed, but sure is likely to get a North American release next year. This classic fantasy RPG keeps things old-school, but looks cute and stylish enough to not feel dated.

Infinite Space
PlatinumGames goes in a very different direction from MadWorld and Bayonetta with their third title for Sega, the strategic spacebound RPG Infinite Space. The NudeMaker co-developed game looks like a unique offering amongst the fantasy RPG heavy lot.

Ghost Trick
The creator of the Ace Attorney series delivers Ghost Trick, an adventure game that puts players in the role of a spirit who can manipulate objects, coming to the aid of the still living.

Ace Attorney Investigations: Miles Edgeworth
Phoenix Wright won't return in Ace Attorney Investigations, something he may object to. Instead, Miles Edgeworth takes over, offering more of the familiar, but still popular point and click crime solving meets courtroom drama.

Korg DS-10 Plus
The synth program expands in this sequel of sorts to cult hit Korg DS-10.

Pokemon HeartGold & SoulSilver
This pair of Nintendo DS remakes puts a new coat of paint on 1999 classics Pokemon Gold and Silver. You know how this works. Collect Pokemon and make 'em fight!

Sands of Destruction
The world is in danger and only turn-based battles can save it! Sega's publishing this imageepoch-developed RPG in January, giving English speakers a chance to enjoy Sands of Destruction's combination of traditional gameplay mixed with fighting game elements.

Shantae: Risky's Revenge
WayForward's cult favorite heroine returns with a new platformer, courtesy of the DSiWare shop.

Again
It's title may not stir up much enthusiasm, but this graphic adventure game comes from Cing, the folks responsible for titles like Hotel Dusk and Trace Memory.

Shin Megami Tensei: Strange Journey
Who doesn't love a good SMT game? Well this one is spacier and more black hole filled than any other!

Nintendo DSi XL
Ah, the Nintendo DSi XL. It's like a regular DSi, but bigger. Bigger screens, bigger touch pens, bigger price. It's all here!