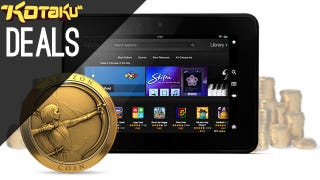 Today in the no-brainer category, Android owners can get $20 worth of Android apps, in the form of Amazon coins, for $7. What you're actually doing is buying the Android version of GTA: San Andreas, which costs 7 bucks and comes with 2000 free coins ($20). If you have a Kindle Fire and want the game then all the better, but either way, you're getting $13 to spend on apps for free. [GTA: San Andreas with 2000 coins, $7]
---
pre-order and save on Cosmos: A Spacetime Odyssey, which has been going for $50 until yesterday.
---
Watch Dogs pre-order with $15 Xbox Gift Card | One/360
Watch Dogs pre-order with $12 credit | PC
Watch Dogs Deluxe pre-order with $14 credit | PC
---
Titanfall Xbox One | $40
Titanfall Xbox 360 | $40
Titanfall PC | $41
Titanfall Season Pass Pass PC | $20 | Use code FUSWJT-B1DU64-JBV8UY
Titanfall Expedition | $8 | Use code MAY20OFF
---
We recently posted about pre-order availability of the Dragon Age Inquisition Deluxe Edition. The Inquisitor's Edition is now also up for pre-order.
Dragon Age: Inquisition Deluxe | PS4/One/PS3/360/PC
Dragon Age: Inquisition | PS4/One/PS3/360/PC
---
---
Here are a couple of solid sets of cheap headphones on sale, including one that's both Bluetooth and waterproof.
JLab JBuds J5 Metal Earbuds Style Headphones ($10) | Amazon
Pyle Waterproof Bluetooth Headphones ($35) | Woot
---
There's not much to say here other than that it's an HDMI switch for $6. If you think you might need one, this is a great price.
---
There are car chargers, and then there are car chargers. This model from Mpow features two USB ports, and 20W of power, which means you could charge two full-sized iPads at nearly full speed at the same time. At $7, why not?
---
Here's a new program to get book lovers excited. Every month, Amazon will offer Kindle downloads of four not-yet-released books. Anyone can pick one to download for just $2 and read it before the release date, or Prime members can choose one for free. You can check out the first slate of books and sign up for email alerts here, or save yourself the $2 by signing up for a free Prime 30 day trial.
---
Games
LEGO Minecraft: The Nether ($28) | Amazon
PC
Buy Starcraft II, get Heart of the Swarm free ($39) | Best Buy
PS4
Xbox One
PS3
Xbox 360
3DS
Board Games
Apps
iOS
Android
Movies and Television
Television
Books
Home Theater
Peripherals
PC Parts
Home
Inventory
---
See all the upcoming releases here.
May 20
Wolfenstein | PS4/PS3/One/360/PC | Pre-order for Doom Beta Access
Drakengard 3 | PS3
Hakuoki: Stories of the Shinsengumi Limited Edition | PS3
Mugen Souls Z | PS4
Transistor | PS4/PC
Sparkle 2 | PS4/Vita
Serial Experiments Lain: Complete Series | Blu-ray
May 23
Tropico 5 | PC
May 27
Watch Dogs | PS4/PS3/One/360/PC
Sly Cooper Collection | Vita
Mind Zero | Vita
May 30
Mario Kart 8 | Wii U
---
June
---
June 3
Murdered: Soul Suspect | PS4/PS3/One/360/PC
Wildstar | PC
Hyperdimension Neptunia PP | Vita
Attack on Titan, Part 1, Limited Edition | Blu-ray | Also in standard edition
June 6
Tomodachi Life | 3DS
June 9
June 10
Enemy Front | PS3/360/PC
True Detective | Blu-ray
June 17
EA Sports UFC | PS4/One
The LEGO Movie: Everything Is Awesome Edition | Blu-ray | Also available in standard edition
House of Cards Season Two | Blu-ray
June 24
Transformers: Rise of the Dark Spark | PS4/PS3/One/360/Wii U/3DS/PC
Plants vs. Zombies: Garden Warfare | PC
BlazBlue: Chrono Phantasma | Vita
Star Trek: The Next Generation Season Six | Blu-ray
Orphan Black Season Two | Blu-ray
---
July
---
July 29
Hyperdimension Neptunia Re;Birth1 | Vita
Herzog: The Collection limited edition | Blu-ray
---
August
---
August 5
Akiba's Trip: Undead and Undressed | PS3/Vita
August 12
Disgaea 4: A Promise Revisited | Vita
August 19
Diablo III: Ultimate Evil Edition | PS4/One/PS3/360
August 22
Tales of Xillia 2 | PS3
August 26
The Evil Within | PS4/PS3/One/360/PC
The Walking Dead Season 4 Limited Edition | Blu-ray | Also available in standard edition
---
September
---
September 2
Danganronpa 2: Goodbye Despair | Vita
September 9
Destiny | PS4/PS3/One/360 | Pre-order for Beta access
---
October
---
October 7
Dragon Age: Inquisition | PS4/One/PS3/360/PC