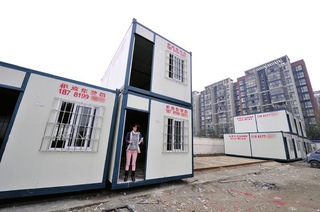 For around $30 a month, you too can live in a Chinese shipping container.
The monthly 180 yuan ($29.68) rent gets Pan Wei (below) a box... and not much else. There's no toilet and no bathtub; however, he was able to get electricity.
Winters are cold, and summers get hot. The containers are small (18 square meters), but some are stacked, making larger apartments.
This isn't a first as shipping container apartments exist in other countries as well.
According to ChinaNews, around eight thousand people supposedly live in containers in Chengdu. Around 2012, this style of residence became more popular. In China, the dwellers are called the "Cabinet Tribe," due to the container's cabinet-like shape. Many are migrant workers, and some rent daily and only live in them for short stints—a little over a week.
Then, there are white collar workers like Pan, who studied computer science at university. His meager salary, however, would make renting an apartment downtown a costly proposition.
For the last several months, he's called the shipping container home.
"I found the container to be clean," he told ChinaNews. "What's more, it's easy to live in, and the rent is cheap."
The downside? It's possible to break into the container, simply by kicking the door in, among other things.
At least there are bars on the windows.
成都超8000"柜族"租住集装箱月租180元(图) [ChinaNews]
成都8000"柜族":月租180元 集装箱中安家(组图) [iFeng]
Photos: iFeng/ChinaNews
To contact the author of this post, write to bashcraftATkotaku.com or find him on Twitter @Brian_Ashcraft.
Kotaku East is your slice of Asian internet culture, bringing you the latest talking points from Japan, Korea, China and beyond. Tune in every morning from 4am to 8am.